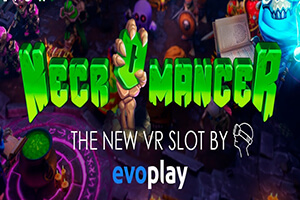 Evoplay, a Kyiv-based iGaming company with dozens of top-notch games under its belt, is about to release its first VR slot game entitled Necromancer, and customers of the SlotsMillion platform will be able to savour it as soon as it hits the casino floor.
Depending on your device, you will be able to experience Necromancer in full 3D (desktop, smartphone, tablet) or VR (through VR gear).
First Evoplay VR Game
Technology is evolving, and the development of VR products is one of the more important departments the gaming industry is focusing on. People from Evoplay say that Necromancer is their first VR game, but it won't be the last. Clearly, investing in VR is their plan and Necromancer seems like a perfect game to kick off the new era of VR slot gaming.
For the theme of Necromancer, Evoplay chose the practice of black magic. Necromancy is a fascinating, spooky concept that involves communication with the deceased. Necromancers are, supposedly, able to summon the spirits of the dead as apparitions. The 5-reel, 4-row slot game is based on HTML5 3D technology which works smoothly in a VR browser-based environment. The actions in the game are not captured by the one front camera but presented with a camera rotation effect which allows the player to see everything around the characters. Apart from a visually stunning setup, Necromancer boasts stacked symbols and offers respins.
Playing Necromancer on a desktop or a smartphone means that you can immerse yourself in the unique 3D world of warlocks and rituals. The HTML5 3D technology really shines and the game lets you move the camera to change the view. Full VR, though, offers a 360-degree game experience.
Low to Medium Volatility
The volatility of Necromancer is somewhere between low and medium; the slot features a return rate of 95.85%. There are 40 lines you can bet on and the developer vouches for a 12% hit frequency.
SlotsMillion is the place to look for Evoplay's soon-to-be-released Necromancer VR slot, which will surely be the talk of the town in the following months.