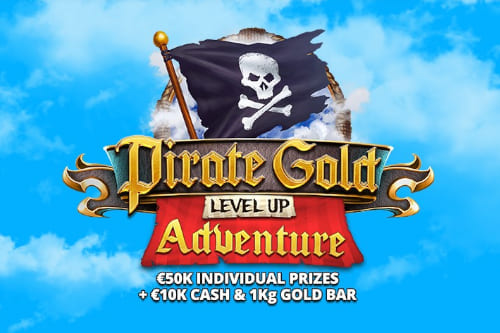 Ahoy, maties! Shiver me timbers, we have another perfect offer for all pirates among gamers, coming from Bitstarz Casino! For more than two months, players will be on a quest for hidden treasures. Plenty of perils will stand on their way, but the rewards that are waiting for them are simply awesome!
There will be individual prize pools worth €50,000, lots of Bitstarz merchandise, a €10,000 reward, while the main prize is 1kg gold bar! All of this is waiting for you on a treasure map that you need to pass from 6th July until 25th September.
How Can You Become a Crew Member?
If you think you have what it takes to become a member of the crew, there are some conditions you need to meet before you join the quest for gold. Only gamers that have made one or more real money deposits will be eligible for the Pirate Gold Level Up Adventure.
Pick any of the games on the offer, but remember that video slots will contribute the most to passing the levels. There are 41 levels you need to pass in order to reach your goal. Your main task will be to wager on games and fill the progress bar. This will allow you to move forward on the treasure map.
Certain Levels Hide Treasures
As you go along, you will move across the treasure map and reach new levels. Some of them hide cash prizes, some of them will reveal Bitstarz merchandize. What we do know for a fact is that €50,000 is prepared for individual prize pools!
Once you find yourselves on Level 40, you will be rewarded with €10,000 in cash. Those of you who decide to go all the way and complete Level 41 will get a 1kg gold bar! If you think that this is a promotion for you, please click here and visit Bitstarz Casino. There is more than enough time for you to pass all the levels and reach the top reward.