Bet €100 at BitStarz This Summer and Win a Tesla Model 3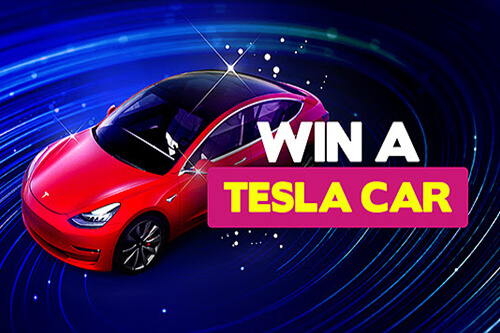 Back in April, BitStarz Casino celebrated its sixth birthday by throwing a fantastic party and awarding a brand-new Tesla Model 3, a fantastic electric four-door sedan. This giveaway proved to be a smashing hit among players, so BitStarz decided to do it all again!
Another amazing Tesla Model 3 worth €45,000 is going to find a new home and the best thing about it is that anyone can take part in this promotion.
How to Qualify?
The promotional campaign started on 9 June and it runs through 11 August. Its main event is a raffle that will see one lucky player take a brand-new Tesla Model 3 home. All you have to do is to place a bet of at least €100 on any of the casino games offered at BitStarz Casino. For every €100 you bet, you'll receive a ticket, and the more tickets you get, the bigger are your chances to end up with a new Tesla Model 3 in your garage!
Keep in mind that only real money wagers will earn you a ticket for the draw. You are free to choose whether you'll place a single bet worth €100 or wager the amount across a number of bets. Using bonus funds will not get you a ticket, though. To keep track of the number of tickets you have collected, simply visit the promotion page anytime you want!
About the Prize
The top prize – and the only prize – in this amazing promotion is a Tesla Model 3, the best-selling electric car in the world! This also means that only one player will be lucky enough to get behind the wheel of this fantastic car. We'll find out the name of the winner after the 11 August draw, and if by any chance they are not a big fan of four wheels, a cash alternative is available – worth €45,000!
What are you waiting for?
Click here to visit BitStarz Casino, and you could end up driving a Tesla Model 3 this summer!