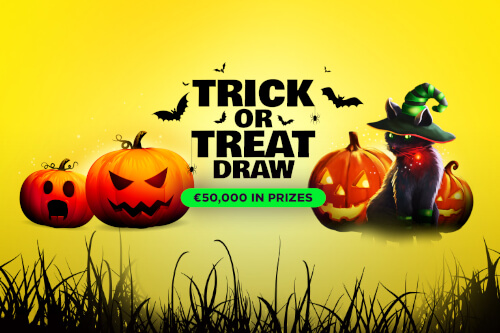 Halloween is just around the corner, and you better get ready for some serious trick-or-treating, since a spooktacular Trick or Treat Draw is organized at BitStarz Casino these days. Players need to wager on selected games, get prize draw tickets, and, with the little help of Lady Luck, get one of the prizes on the offer.
The total prize pool is set at mouthwatering €50,000, while the first prize is €8,000 in cash. Collect tickets and become one of the Spinomenal lucky winners!
Play Selected Games and Earn Tickets
The rules of the promotion are quite simple, and you do not have to be a rocket scientist to understand how everything functions around here. Players need to spin the reels of the selected games, including 4 Horsemen, Spinoween, Origins of Lilith, 4 Horsemen II, and Hallow Reels.
In order to get the prize draw tickets, gamers need to wager either real money or bonus money. For every €5 wagered, you get one ticket for the prize draw, it's as simple as that. There are no limits when it comes to the number of tickets you can collect, so, if possible, gather as many as you can, so as to boost your chances on the final prize draw.
Final Prize Draw To Be Held on 4th November
The promotion started on 22nd October, and it will all be over on 4th November, when the prize draw will be held. As for the gathering of prize draw tickets, players can do that only until 3rd November 00:59 CET.
Those of you who believe that they have what it takes to snatch one of the prizes, please click here and create an account with BitStarz Casino. Also, you can check out other phenomenal offers on their website. As for the Trick or Treat Draw, a slice of €50,000 can be yours.