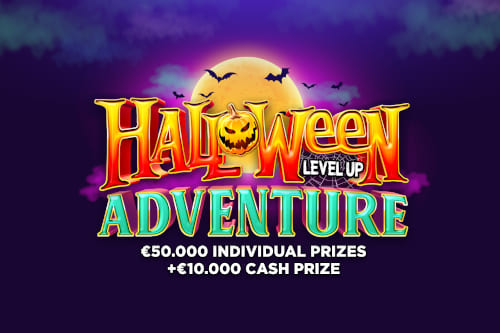 Halloween is getting closer and we all know that is one of the most popular holidays across the globe. Even so, there still are plenty of people who are too afraid to enjoy the festivity. Now, if you are ready to defeat your fears and enter the competition offered by BitStarz Casino, you can win up to €10,000 in cash!
Players need to play games, fill the progress bars, and win prizes on certain points of the map. Reach the final level and you will walk away with a tasty amount of money in your pockets. The total prize pool is set at €60,000, out of which €50,000 is reserved for individual prizes, while €10,000 will end up in the hands of the player who reaches level 40 first.
What Do You Need to Do to Win?
The first thing you need to know is that the Halloween Level Up Adventure (which is the name of the promotion) is reserved only for players that place real money bets, with no active bonus. If you have an active bonus, you will not be eligible for the promotion.
Table games contribute 5% towards the turnover of the promotion, while all video slots contribute 100% towards the turnover of the promotion. Every cash prize you win comes with a 10x wagering requirement, except for the first prize. As you step onto the map, you need to fill the progress bar to pass levels.
Explore the map to see on which level you can pocket the prizes, we can only say that there are BitStartz Hoodies and BitStarz Backpacks waiting, while on the final level you can win €10,000 in cash!
How Long Do You Have to Reach the Final Level?
Well, the promotion runs from 5th October to 6th November, so there is quite enough time for you to join the party. Even so, take under consideration that, if you are planning on winning the top reward, you need to reach Level 40 first, since only then you can expect to fill your pockets with €10,000.
Click here and create an account with BitStarz Casino if you think you have what it takes to win. If you are still too scared, there are plenty of other promotions that you can enjoy over there.