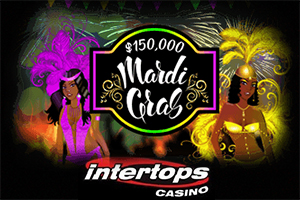 Intertops Red Casino invites you to join the Mardi Gras celebrations and dance to your share of $30,000 in weekly giveaways.
Mardi Gras is a Christian holiday which dates back hundreds of years to pagan spring and fertility rites. The popular cultural phenomenon, also known as a Carnival, is celebrated around the world, including Brazil, Venice and New Orleans. Its name literally means "Fat Tuesday" and its traditional colours are purple, green and gold, representing justice, faith and power respectively.
Over five weeks, between 29 January and 5 March, you have a chance to make it to the top 300 players every week and win your share of the $30,000 prize pool. At the promotion's end, a $1,000 cash prize will be awarded to the luckiest player of the most successful ones. Besides, every Thursday 50 lucky players will win free bonuses in a draw.
To join the Mardi Gras celebration and qualify for a weekly leaderboard prize, you have to deposit $75 or more. Every $100 you wager on any game in the casino earns you 1 point, so the more you play, the more points you earn. Keep an eye on the leaderboard which is reset every Monday to check out if you have made it to the best 300 players of the week who will win a share of $30,000 in bonuses.
To qualify for a Thursday bonus draw, you have to deposit and wager $25 or more between Monday and Wednesday. Finally, if you manage to secure a position among the top 20 players any week during the promotional period, you can win the $1,000 cash prize at the end of the campaign.
The first 20 players on the weekly leaderboard will win $500 in bonuses each, the next 10 players will win $300 each while those occupying between the 31st and 50th position will be rewarded with a $150 bonus. The next 50 players win $75 each, the players with a rank between 101 and 200 will get $50 while the last 100 winners will be rewarded with a $30 bonus each.
Visit Intertops Red Casino for a chance of winning attractive bonuses and a $1,000 cash prize!