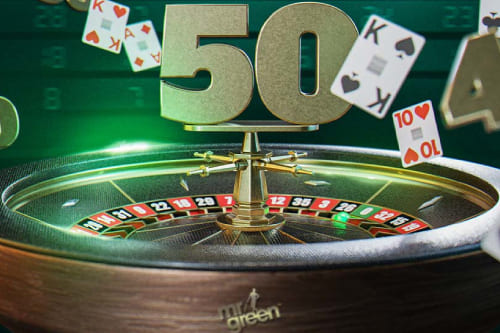 Ladies and gentlemen, the ever-generous Mr Green has prepared another fantastic promotion for all Roulette fans across the globe. This July, you will have a chance to win a share of €5,000 in cash, and all you need to do is play the selected Roulette tables.
The €5,000 Live Roulette Battle is the name of the game, but do not worry, you will not have to actually battle against other players. The competition will be fierce, and those of you who emerge victoriously will pocket one of 50 cash prizes, ranging between $50 and $500. As you may suppose, the higher you get on the leaderboard, the bigger the prize will be.
Collect Points on Live Roulette Tables
The rules of the promotion are pretty straightforward. Just select one of the Live Roulette tables on offer and make your bets. Every time you win 5x the bet, you will get 5 points for the leaderboard. The leaderboard progress is visible in each of the qualifying games, so you will always know your current position.
It is important to say that players must not cover more than 70% of the selected Roulette table. If that is the case, the bets will be considered invalid. If players have the same final score, the one who got to the final position first will claim that position on the leaderboard.
The Top Prize is €500
Now is the time to talk about prizes. The top 50 players will get their share of €5,000. Finish the competition first, and you will pocket €500. Second-best will secure €400. If you end the race third, you will receive €300. Players placed between fourth and tenth place will get €150 each. Finish between the eleventh and twenty-fifth positions, and get €100. End the race in one of the last 25 places to win €50.
Click here and visit Mr Green for more information about the €5,000 Live Roulette Battle promotion. Remember that the promotion ends on 29th July.