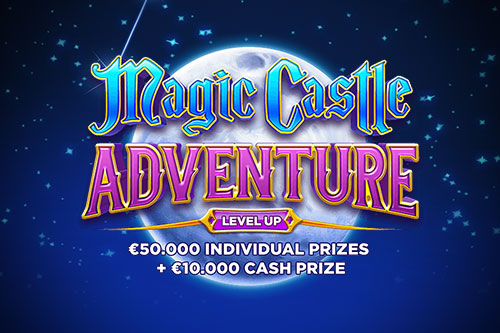 It is time for you to enter the Magic Castle down at Bitstarz Casino because the magical Magic Castle Adventure has begun. All sorcerers and adventurers among gamers are invited to join the fun and battle for plenty of individual prizes worth €50,000.
That is not all, because the best contestant who reaches the 40th level first will also pocket a tasty reward of €10,000 in cash! All you need to do is play any game on offer at Bitstarzz Casino, pass levels, and on certain checkpoints, there will be prizes waiting for you.
40 Levels for You to Pass
It may sound more complicated than it actually is to pass 40 levels and reach the top reward of 40 levels to snatch the capital reward of €10,000. Believe us when we tell you that all you need to do is be patient and work hard, and the prizes will come.
Players begin at Level 1, and their sole task is to collect points to move down the map. On your path, you will come across sorcerers, ghosts, and all sorts of monsters, but do not be afraid of them. You are perfectly safe in this magic castle. At every point in time, you will know precisely where you stand on the map.
Get Your Share of the Prizes
As you move down the map, you will discover that certain levels hide valuable individual prizes. The total worth of the individual prizes is set at €50,000, and if you are persistent, you will easily pocket your fair share.
Now, the player who first reaches the final level will be rewarded for his accomplishment with a delicious reward of €10,000 in cash! What is also important to mention is that all rewards come with a 10x wagering requirement. Click here and visit Bitstarz Casino if you want to enter the Magic Castle.