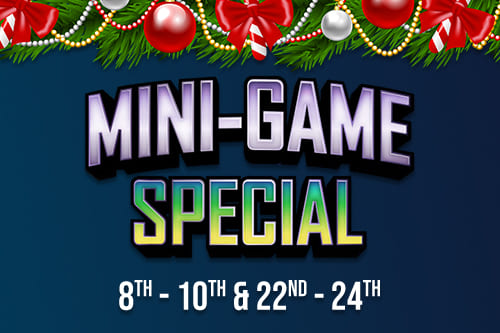 Since Christmas is just around the corner, everybody is preparing for the upcoming festivities. This is the time of the year when presents are being given away and you can be on the receiving end if you decide to have a try at Mini-Games Tournament, organized by Vegas Crest Casino.
Two tournaments are on the offer, both of them will last for two days, and both of them offer the same top prize – $300. A total of 20 cash rewards will be shared among the top 20 contestants in December.
When Do Tournaments Start?
The first Mini-Game tournament begins on 8th December and will last until 10th December, 11:59EST. As we approach Christmas, players will have one more chance to battle for one of the cash prizes from 22nd to 24th December.
Mini slot games are on the offer, including Coral Reef, Winds of Arabia, Sands of Egypt, Monster House, The Lucky Farm, Tutti Frutti 4, and plenty of other games. Just make sure you check out the list of eligible mini slot games before you begin your competition.
How Can You Win The Top Prize?
To participate, you need to make at least one deposit seven days before the tournaments begin. You get to play five rounds, and the winner is determined by the highest equalized win over five rounds. Of course, the rounds need to be played on selected mini slot games.
Apart from the top reward of $300, there are nine other prizes you can win per tournament. Finish second and you will get $100 in Casino Bonuses. All other rewards are Casino Bonuses as well. The player that comes third will pocket $75, while fourth and fifth will win $50 and $20 respectively. Finish the tournament between 6th and 10th position and you will receive $10.
Click here and visit Vegas Crest if you want to have a go with one of the two tournaments that are on the offer. The offer expires on 24th December, just before Christmas.