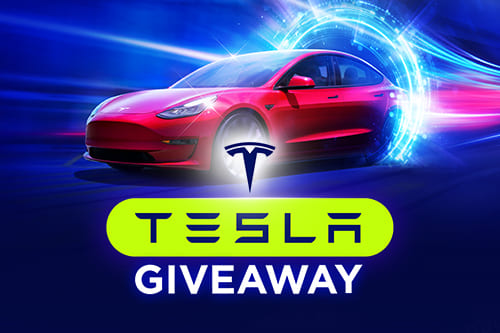 Players who are planning to start a New Year with a brand new car should pay attention to the magnificent offer coming straight from Bitstarz Casino's creative kitchen. The race is on, and you should start your engines straight away if you want to compete for a Tesla 3 car, worth a staggering €45,000.
Get on the starting line and collect tickets for the raffle that will be organized on 4th January 2021. The more raffle tickets you collect, the bigger the chances are for you to win the car.
Get One Raffle Ticket For Every €100 Wagered
It is quite simple to get involved in the action. Players only need to wager €100 on any game on the offer. For every wager, you get one raffle ticket. It is possible to get more than one ticket for the final raffle, simply to boost your chances of winning the brand new Tesla 3 car.
It is important to remember that only real money wagers will be considered, so wagers that come from bonus money do not count towards the wagering requirement. Also, there is a necessity to make at least one deposit during the promotional period, otherwise, your wagers will not be considered.
Drive a New Tesla in 2021
Start a fresh New Year with a new Tesla 3 Car. If you are not interested in taking the car, or you do not have the possibility to pick up the automobile, you can always take a cash alternative, which is €45,000.
Since there are no limits on how many raffle tickets you can get, collect as many as possible. Click here and create an account with Bitstarz Casino, because there is still time for you to join the action.
The promotion will be over on 4th January 2021.