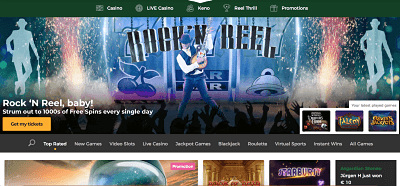 As thrilling as the rich online casino offer of today is, it has to be admitted that the expansion of cyber gambling facilities can sometimes be more of a burden than a blessing, especially if you are fresh-out-of-the oven player, who is just starting to explore the exciting world of online gambling.  Taking the leap of faith is not recommended when trying to choose the best casino site – unless you actually want to get swindled. There is enough adrenaline in gambling as it is, without having to worry about the online casino's reliability and the safety of your sensitive data. Here is where the principle of being safe rather than sorry finds its true meaning and becomes the stepping stone of your search for a reputable casino which, at the same time, suits your personal preferences.
Apart from the safety component, other elements should also click into place to form a perfect blend of functionality, diversity and fun and if you are on a lookout for an ideal casino platform which abides by the legal requirements, your search should be structured into several stages.
How do I determine the search criteria?
Making the first step is usually the hardest part of any journey and the most common mistake that you can make when searching for the right casino site is not determining the key points that should be used in the casino evaluation process. Although every player will have different affinities and priorities, certain criteria should be taken as axioms and never disregarded. Therefore, the player should start by differentiating between the objective and subjective criteria:
Objective criteria should cover the following:
Licensing
Safety
Banking and withdrawal policy
Support line
Site layout, navigation and registration process
Unresolved complaints and user reviews
Subjective criteria will refer to your own personal expectations and may or may not have the same weight as the objective criteria. For a number of players, the line between the two is blurred or even invisible at times and the criteria below is just as important as the ones above:
Selection of games and software developers
Welcome bonuses and promotions
VIP program
Side offer
Licensing
The regulatory body behind the casino operator is the first thing any experienced player will check. For most, anything other than UK Gambling Commission and Malta Gaming Authority is a red flag and a clear signal not to go further. The reason for this is the standards that an online casino has to meet in order to qualify for one of those two licenses. Any report against the casino is taken very seriously and frequent check-ups are conducted to make sure that the casino is in line with the legal requirements.
One of the conditions of acquiring MGA and the Commission license is fairness and randomness of the games offered, carried out by the independent agencies such as eCogra, TST, iTech Labs, etc.
Safety
This criterion refers to how the casino protects personal and financial information of their account holders. A reputable casino will include the protection system information under the FAQ section and if you are not able to find any details about their security technologies (such as SSL encryption), you may want to look for a more transparent casino.
Banking
Discretion is one of the main benefits of online gambling and a number of players do not want their payment card statement reflecting their spare time activities.  This means that providing payment alternatives, such as e-wallets, is extremely important, not simply because they add an extra layer of anonymity, but also because they come with a much faster processing time. Another thing to consider is the casino's deposit minimum and the withdrawal limit on the weekly and monthly level.
Support
Customer support is the face of the company and the first direct contact that the player has with the casino. Ideally, the casino will offer several communication channels which should be available 24/7 – live chat, emails and a toll free phone line. The lack of support, unresponsive and impolite agents are all clear signs that you are dealing with a potentially sketchy online casino.
Website
Clear and easy-to-navigate layout, sharp design, appealing visuals, visible reference points (gaming catalogue, registration area, customer support…) will all have to be on point for a more demanding player to even consider creating an account and depositing.
Not being able to get clear instructions and complete the registration process in less than a few minutes can be very frustrating; in all honesty, with the current competition in online gambling industry, there is really no point in being bothered with a casino that makes it difficult to register or find relevant information.
Complaints level and experiences of other players
Reading about other people experiences is a great way to evaluate a casino and find out how reputable it really is. Complaints and low user ratings are likely to happen, even to the best of online casino operators, but how they will handle it is the true indicator of their reliability. Trustworthy casino will always reach out to the unsatisfied player who left a negative comment on their social media and provide a solution that will work with both parties.
Games and gaming developers
Rich and diverse gaming offer cannot hurt and partnerships with the top software developers such as NetEnt, NYX, Microgaming and others, signifies that the number of games and themes a casino provides is substantial.
Whether or not this particular criteria will have any impact to your final decision will depend on your playing style and preferred games, but having a restricted offer can be a deal breaker for a lot of players.
Welcome Bonus, promotions, loyalty program and VIP lounge
Greeting new members can make or break a casino, especially since new players expect the operators to give something back and show that the members are appreciated. First time players are often showered with Free spins and bonus cash which should come with very clear Terms & Conditions and have no room for loose interpretations.  The same goes for weekly cashbacks, reloads, tournaments etc
A lot of casinos nowadays award extra points to their loyal members and special perks are reserved for casino's most valuable asset – VIP players.
Additional offer
It is always great to see that a casino has a few betting alternatives on the side, even if you are not using them. Having a side offer that includes Live Tables and sports betting (football, basketball, horse racing, lottery…) can be an interesting break from the casino's standard slot and video poker program.
The Starting Point of Finding the Right Online Casino
Should you feel a bit overwhelmed with the amount of information that has to be checked and taken into account before you decide on a casino or cross it from your list, you will be pleased to learn that there are specialized websites that list the top online casinos, focusing on those that hold European jurisdiction licences (UK and Malta), thus cutting your search and filtering time in half.
Sites such as CasinoBloke and BestCasinos do most of your work for you and if you are looking to cut a few corners in your quest for the perfect online venue, their list of The Top 10 Casinos will be of immense help in providing key info about the most popular and trustworthy online gambling facilities.