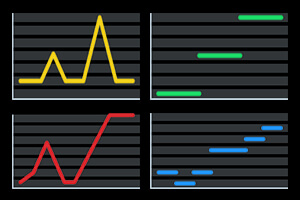 Slot machines are simple casino games. There are no complex rules to learn, so all you have to do is place your bet and push the Spin button. However, what can make you more or less successful at playing a slot game is to know how to set your stake. While most slot machines offer you to adjust your wager manually, one software developer has taken the art of betting further and offered automated betting strategies that will adjust the bet value for you. They are ELK Studios, a Sweden-based gaming company that has introduced four betting strategies – Jumper, Leveller, Booster and Optimizer. Stay with us to learn more about them and how they can help you improve your slot game.
How Do ELK Betting Strategies Work?
Betting strategies are a unique feature available in ELK-powered video slots. They work as predefined patterns that automatically change the bet value according to your performance. Basically, the slot game you play register your wins and losses and alters your wager based on them. Each betting strategy has its own pattern and you can choose the one that suits your playing style best. After any spin, you can change a betting strategy or turn off the one you have opted for. You can use the betting strategies combined with the Autoplay feature as well. Let's take a closer look at the ELK slot betting strategies.
Jumper
The Jumper betting strategy is based on positive progression. It increases your bet when you win and resets it whenever you lose. Once activated, Jumper will increase your bet level after every winning spin until you reach 4 levels above the initial bet. A losing spin resets your bet to the original value.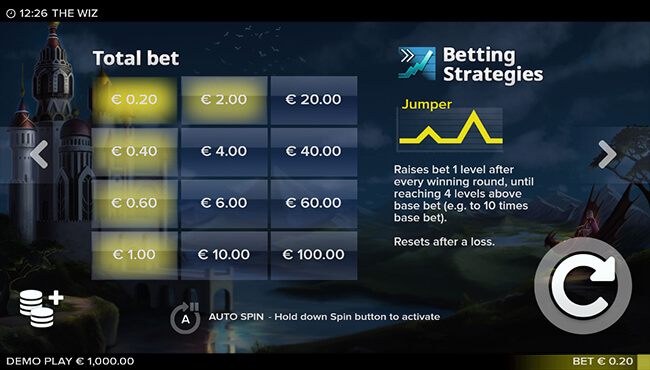 Leveller
Leveller is a betting strategy based on negative progression. It increases your bet 2 levels after 5 losing spins in a row. The pattern is applied to your bets as long as you lose. Once you hit a win, your wager will be reset to the initial value.
Booster
Another negative progression betting strategy will raise your wager one step after every losing spin until it reaches 4 levels above the original bet. If you win, your bet will be reset to the base level.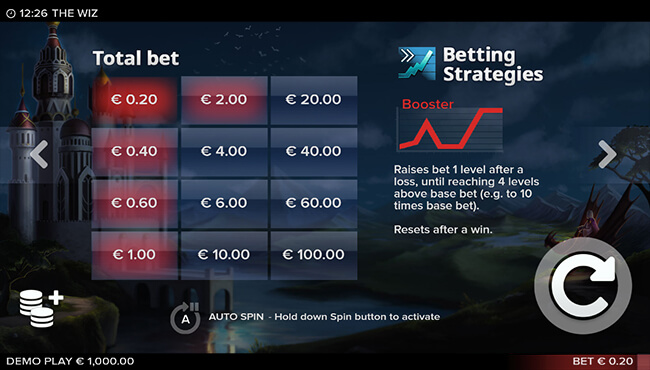 Optimizer
The Optimizer betting strategy works differently. If you choose it, your bet level will change automatically and adapt to the percentage of your balance you have selected. You can choose a percentage according to your playing style. It can be 1% or 2%, which is perfect for beginners, or 5% or 10%, which is designed with high-rollers in mind. Once you select a percentage, Optimizer will adjust your bet up and down to the closest bet level below the selected percentage. The strategy remains active on the lowest bet level.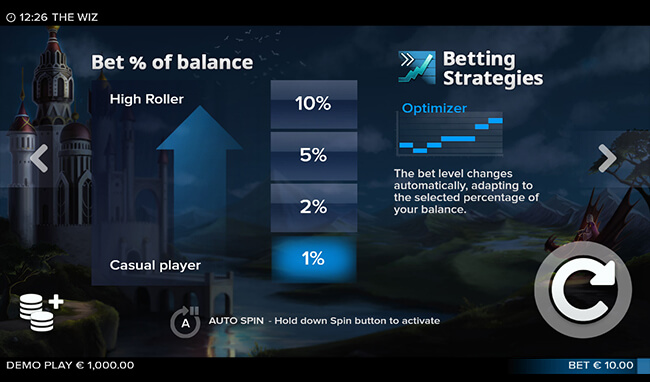 What Can We Learn from ELK Slot Betting Strategies?
When playing a slot machine, it is all about the game and your bankroll. You set your bet according to your budget and playing style. It can be less or more risky, meaning that you will wager lower or higher amounts per spin. Just like with other casino games, when playing a slot machine, you should keep an eye on your bankroll. No matter how much you can afford to spend on a slot game, you should set the limits and stick to them. While it is not that easy to do it on your own, if you play any of ELK-powered slots, the above-mentioned betting strategies will manage your bankroll for you.
It is obvious that they are designed with different types of players in mind. However, one thing is common for them all. They won't let you risk more than you can afford. For instance, the Jumper betting strategy will raise your bet when you are on a winning streak, but it won't do it endlessly. Once your wager reaches 4 levels above the original amount, it will be reset. That simply means that it won't let you risk your funds without limits. Of course, the value of initial bet will determine how high your wager will get.  The same applies to the Booster and Leveller strategies that raise your bet when on a losing streak. The only difference is in the fact that Booster does it more aggressively.
According to these three strategies, you should increase your bets when you are on a winning or a losing streak. While the first one is based on the premise that you should raise your bet to win more, the latter two should help you cover your losses by wagering bigger amounts. However, the betting strategy we like most is Optimiser as we find it the most rational way to go. You set your bankroll, which is the money you have in your balance, and you determine a percentage of it you would like to bet. If you are on a losing streak and your bankroll decreases, you should reduce your bet per spin and vice versa. Just like the ELK betting strategy offers you four percentage levels according to your playing style, you can do it yourself.
Closing Thoughts
The ELK slot betting strategies can serve you as a model on how to set your stake. They can be applied to all kinds of slot machines. However, when using any of them, you should bear in mind that slot games have random results, meaning that those strategies based on positive or negative progression may not be the best possible option. Although bigger bets can earn you bigger payouts, if you keep on losing, you can lose big as well. That's why we suggest combining more betting strategies depending on your performance or stick to the Optimiser pattern according to which you will stake a preferred percentage of your bankroll. If you use it manually, don't forget to change your bet after every round, whether you win or lose. Only by doing so can you manage your bankroll properly and control your spending at a slot machine.