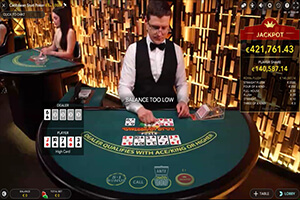 If you're an online player in love with live dealer games, chances are you've occasionally experienced envy seeing massive progressive jackpots attached to online slots. Even those that have never ever spun reels of a slot game are surely familiar with Mega Moolah, a record-breaking title which in 2018 alone paid a cumulative amount of over €50 million.
And though smaller progressives can occasionally be found with RNG table games, live gaming fans were left feeling neglected – at least until Evolution Gaming decided it was time to offer them the same opportunity slots players have been enjoying for a long time. And, as you know, when Evolution team decides to do something new, they always manage to exceed all our expectations. Want to know the details? Here they come…
Live Poker Side Bets Pay Progressive and Fixed Jackpots
Evolution Gaming has created optional Jackpot programs for three of their hugely popular Live Poker games and offered operators to sign up and enable this lucrative feature. Consequently, Jackpot side bets placed while playing Live Casino Hold'Em, Live Caribbean Stud Poker and Live Texas Hold'Em Bonus Poker can earn players a massive Progressive Jackpot or one of the smaller but still appealing fixed Jackpot prizes. Evolution Gaming provides the initial funding and thus sets the minimum these progressives can pay at €1 million, €50,000 and €50,000 respectively. If you think that's great, wait till I tell you that jackpots have no cap and the largest one has the potential to pay more than €30 million, or as Evolution puts it, it can get "bigger than all of the online progressive slots combined". Wow, wow, and once again – wow!
This is a scenario in which everybody benefits. Online casinos are able to draw more players, participants get to score out-of-this-world payouts, and Evolution Gaming further cements its position as the ruler of the live gaming arena.
How it Works
Evolution provides the seed value for each of the available progressives and the top Jackpot prize fund then keeps growing as more and more Jackpot side bets are placed. These are network-shared rewards, meaning that respective side bets placed on the same game at all participating Evolution licensees contribute to Jackpot funds for that particular table. Once the top Jackpot prize is won, all players that have placed the side bet share the bounty. Evolution then loads in more cash and the chase starts all over again. You should know that the Jackpot side bet pays even if you fold or get beaten by the dealer in the main game. And if you don't manage to score the win of a lifetime, there's still a chance to collect fixed Jackpot prizes of lower value.
Game-Specific Jackpot Features
Casino Hold'Em Jumbo 7 Jackpot
Casino Hold'Em is a variant of Texas Hold'Em Poker. The aim is to beat the dealer with the best possible 5-card hand made out of two cards dealt to the player and five community cards. The highest base game payout is 100:1 for a Royal Flush. Players can optionally place a Bonus bet that pays for Aces or Better and is evaluated based on the first five cards only. The most it can deliver is again 100:1 for a Royal Flush. Jumbo 7 Jackpot bet is initially funded with a sum of €1 million which makes it, to date, the biggest Live Casino Progressive Jackpot in the world. It will keep growing until won with a 7-card Straight Flush. The same optional bet also offers an opportunity to win fixed prizes for a range of other hands – Straight (2:1), Flush (4:1), Full House (5:1), Four of a Kind (50:1), 5-card Straight Flush (250:1), and 6-card Straight Flush (5,000:1).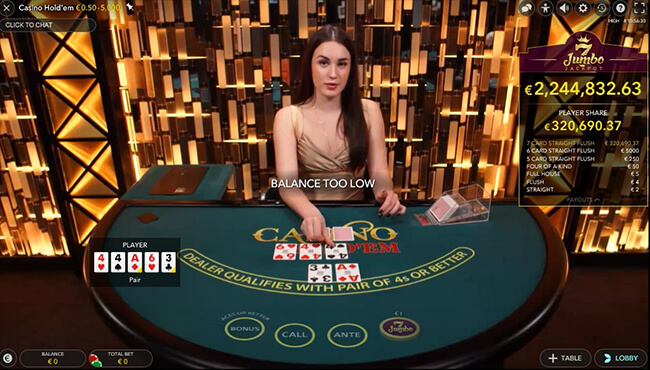 Caribbean Stud Poker Jackpot
Caribbean Stud is another Texas Hold'Em variant with the same goal. An unlimited number of players can join the table and place Ante bets, 5+1 Bonus bet and Jackpot Bonus bet. When the game starts, the dealer will deal your 5 cards face up and the same number of cards to themselves, four of which will be facing down. That's when you decide to call or fold. The 5+1 Bonus bet wins when your five cards and the dealer's up card create a hand of Three of a Kind or Better and pays a maximum of 1,000:1 for a Royal Flush. That same hand will win you the Jackpot side bet top-level progressive with a seed value of €50,000, but only if you had previously decided to place chips on the respective field. Fixed Jackpot prizes are awarded for Three of a Kind (3:1), Straight (10:1), Flush (25:1), Full House (50:1), Four of a Kind (250:1), and Straight Flush (2,500:1).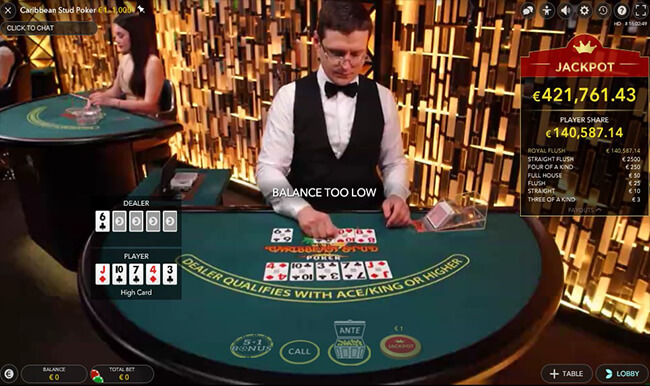 Texas Hold'Em Bonus Poker First Five Jackpot
Texas Hold'Em Bonus Poker is the only online Live Texas Hold'Em Bonus Poker game available these days. In the beginning, both the player and the dealer receive two cards (so-called hole cards), only yours are dealt face up while their cards are dealt face down. At this point, you can fold or continue playing while investing 2x your Ante bet. The dealer then deals three flop cards and once again asks you to make a decision and either bet or fold. One turn card is dealt next and, once the decisions have been made, the dealer reveals the final card (river) along with their own cards. Optional Bonus bet wins if the player's and the dealer's initial cards form at least a pair of 2-2 to 10-10, with the highest prize of 1,000:1 paid for both hands consisting of a pair of Aces. The First Five Jackpot bet (seed value €50,000) keeps increasing until it's won by a Royal Flush. The same side bet will pay for Three of a Kind (3:1), Straight (10:1), Flush (25:1), Full House (50:1), Four of a Kind (250:1), and Straight Flush (2,500:1).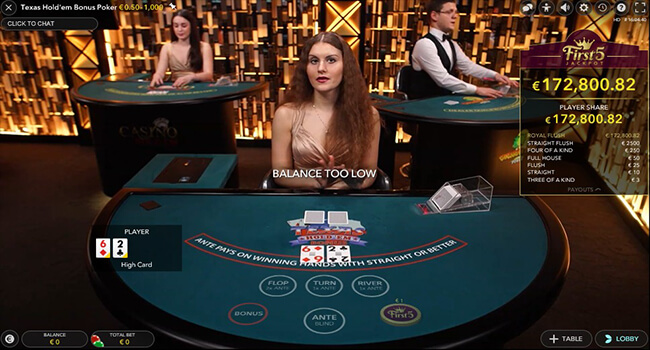 Where to Play?
Finding an online casino with a selection of Evolution-powered live games is not all that difficult, but that doesn't mean they all decided to sign up to the developer's Jackpot programs. Luckily, Casino Bloke can give you a few suggestions as to where you can play top Live Poker games and potentially score a massive progressive jackpot at the same time.
Mr Green Casino offers all three games with Jackpot bets available along with regular side bets.  Live Casino Hold'Em features limits of €0.50 – €5,000 and offers the top progressive of more than €2.2 million and growing. Live Caribbean Stud accepts bets of €1 – €1,000, with the progressive reward currently worth over €400,000. One can also play Texas Hold'Em Bonus Poker for a minimum of 50 cents and a maximum of €1,000, and by investing a bit more on the Jackpot side bet, they can win the top prize which is at the moment approaching €200,000. The same tempting rewards are also available at LeoVegas, Genesis, and SpinIt.