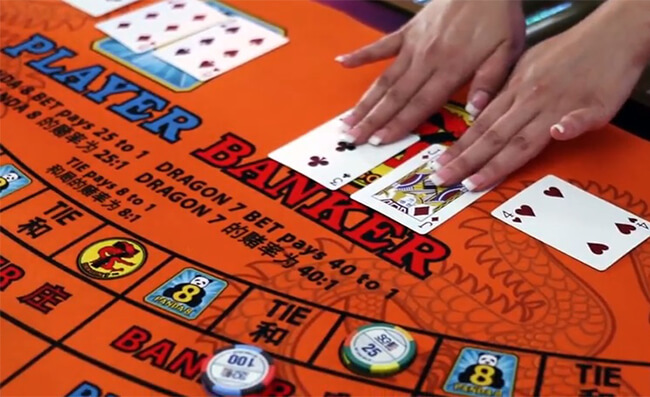 If there is anything frustrating about Baccarat (apart from the high house edge on the best-paying Tie bet), it's the 5% commission the house deducts from your winnings every time you go for the safe alternative and select the Banker option. You could, of course, bet on the Player and avoid the commission, but that would also cut a few percent off the advantage that the Banker bet carries . And let's face it, that feels just as disheartening as paying the commission.
In a daring attempt to keep their entire winning amount and not share it with the house (which, truth be told, gets enough from your losing bets) a lot of players turn to EZ Baccarat, aka Easy Bac, No Commission Baccarat, or Dragon 7, as known in Macau.
If you want to know more about EZ Baccarat and how it works, you're in the right place.
What Is EZ Baccarat?
EZ Baccarat is a variant of baccarat that removes the 5% commission from Banker bets but changes the payout structure to compensate. In terms of the core rules, it's identical to any other game of punto banco, apart from the obvious, no-commission factor.
However, any banker bet that wins with a 3-card hand totaling 7 counts as a push instead of a win. This rule replaces the need for a 5% commission on banker bets.
For the sake of illustration and in case you are yet to become familiarized with the rules and odds of the game, let us explain why the banker commission in baccarat exists.
What Is the Banker Commission in Baccarat?
As most of you already know, there are three main bets in Baccarat – Dragon, Tiger, and Tie. Tie has the best payout but the worst hit frequency rate, which makes it infamously known as the "sucker bet". Two of the other options are, therefore, more popular betting choices. Especially Banker, which comes with 45.85% probability of winning, making it a go-to bet for most experienced players. Better yet, since Ties push Player and Banker bets, we don't have to factor in Tie results. with that in mind, Banker bets win over 51% of all baccarat games. That's why there is a 5% commission on this wager. Otherwise, it would have a positive expected value, and the casinos would be practically giving money away.
The majority of players are so accustomed to the idea that we forget about the commission altogether. Especially because it's not really something that the casinos will flaunt in front of your noses. More often than not, it's simply presented as a 0.95:1 payout on Banker wins. The thought only re-emerges when you come across a No Commission variant and remember all those times when you had to share your profits with the casino, which does have an unfair ring to it.
Why Would a Casino Renounce the Commission?
Ironically, the answer to that question is – for profit. The very concept of Easy Bac or EZ Baccarat is bound to attract all those who prefer their payouts "unimpaired", which inevitably means more crowd around EZ Baccarat table – online or land-based.
The rule about the 5% is conditioned and to make up for the loss in the commission, the casinos have devised a clause, according to which the Banker bets with the total of 7 on a 3-card hand will result in a push.
IF the push-on-seven rules are applied, the RTP of EZBaccarat is 98.98%, which is just ahead of regular baccarat. THat sounds good, but pay attention to the details.
EZ Baccarat is not identical to other No Commission baccarat games. Some No Commission Baccarat tables use different rules, such as pushing on 6 instead of 7. This typically means that the RTP of No Commission Baccarat is actually lower than regular baccarat.
However, EZ baccarat is, indeed, to superior to both types. Be sure to read the table rules before playing to be absolutely certain you're playing the best version.
---
Play Baccarat with minimal vigorish at the world-famous 888 Casino!
---
EZ Baccarat Side Bets
In addition to letting you keep your entire payout, this version of Baccarat introduces the following side betting options:
Dragon 7 (mentioned above)
Panda 8
Otherwise, there are no deviations for the traditional Baccarat structure – the players select one of the three main bets, submit an optional side wager, and the hand that's closer to the total of 9 wins.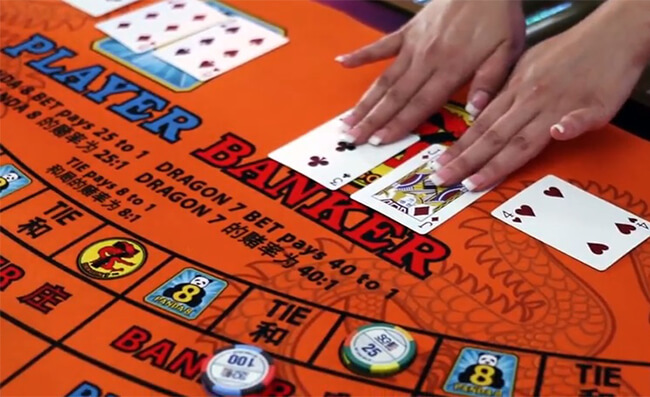 Side bets are settled independently and, as always, generate higher payouts. The Dragon 7 bet will win under the conditions described above – when a 3-card hand comes up to the total of 7. Should that happen, the player will get a payout of 40:1.
Panda 8 wins on the same number of cards, but with a slightly higher total of 8, and the payout is 25:1. In juxtaposition with the Tie bet, side bets pose a lower risk and offer much higher turnover – Dragon 7 comes with approximately 7.6% house edge and Panda 8 has the edge of 10.19%. Tie, on the other hand, has a payout of 8 to 1 (or 9 to 1 in some casino), with over 14% edge – looking at it from that perspective, it's easy to make a decision which of the two Baccarat versions to pick.
The Most Popular Strategies EZ Baccarat Strategies
As a game of chance, Baccarat does not officially offer any reliable strategies that would accurately predict the upcoming card and direct the player's next move. There are, however, some bankroll managing techniques used by more experienced players and two of the most popular ones are the Golden Eagle and the Silver Tiger, both devised by a Chinese mathematician.
The principles of both systems rest on the idea of exploiting your winning streaks or keeping it low-key when your luck turns its back on you. To implement the strategy, you need to start by keeping track of your betting choices. In other words, remember if the previous bet was placed on a Banker or a Player.
Depending on the pattern from previous rounds, one will need to play aggressively or offensively while in the winning streak or take it down a notch and reduce the bets when the tide starts to turn.
The Golden Eagle is a simpler strategy which the player can use to reduce the losses using the "defensive mode" and score big with the offensive tactics. By recording your betting pattern (no shame in using the old pen and paper), you can plan on your next move and make the most of any streak. The Silver Tiger is considered to be more effective and much faster, thus preferred by experienced players.
Card Counting in EZ Baccarat
You will notice that pretty much every suggested Baccarat strategy refers to the budget management and many believe that counting or bluffing skills are completely irrelevant to this game. Not all will agree with this notion and there are some people who believe that card counting will give you a certain edge.
The values are added according to the table below:
| | |
| --- | --- |
| Card | Assigned Value |
| A and 2 | +1 |
| 3 and 4 | +2 |
| 5 and 8 | -1 |
| 6 and 7 | -2 |
| 10 and Face Cards | 0 |
The count should give you an idea when the Player bet has higher odds of winning, which is expected to happen when the count total is higher than 16.
Some argue that card counting in Baccarat is pointless and that one could achieve the same kind of edge by simply sticking to the Banker bet all the time. When it comes to EZ Baccarat and its elimination of the proverbial Sword of Damocles (in the form of commission) hanging over your head, this just may be the best possible option – go safe or go home.
Top Online Casinos to Play EZ Baccarat
No game is good enough to be played on a bad casino. That's why you should do your best to find the right online caisno for your needs. If you're interested to play EZ Baccarat online, you certainly have a few options going for you.
If you are looking to play No Commission Baccarat online, then head over to Mr Green or LeoVegas. US players can visit 7Bit Casino, a high-profile gaming venue that offers a very good selection of live dealer Baccarat tables.