Many players, especially those looking to get paid frequently, prefer slots with a higher return to player percentage. Of course, when choosing a game to play, you'll still consider other important aspects such as design, features, and wagering options. However, a higher return to player may be the factor that tips the scale. And Playtech RTP rates are one of the best in the business.
When speaking about games with a high return to player, one of the developers that come to mind is undoubtedly Playtech. The gaming giant, which has been at the forefront of the industry since 1999, offers its players exciting and immersive titles that combine all the elements we've spoken of earlier.
In this article, we're going to talk about Playtech slots with the highest RTP. It's a curated list of the best slots by some of the best slot creators on the planet.
The Best Playtech Slots and High RTP Rates

Why are we relying on RTP to find the best Playtech slot games, you may ask? Objectivity is the answer.
Looks, graphics, and features can all be written off on personal tastes. For instance, where one player may enjoy Pick & Click features, others might hate them. The same goes for themes, progressive elements, volatility, and so on.
RTP, however, is a linear, objective measure. It has an exact number that can't be disputed. Moreover, more RTP is always better for the player. In contrast, high or low volatility is a matter of personal preference.
As such, Playtech slot RTP is the fairest and most objective way to measure which of their many games can be described as the "best."
One thing before we kick off. Playtech's portfolio is truly staggering, but some of its highest RTP slots have long been discontinued. As such, this list features high RTP Playtech slots you can actually play today. For this list, high RTP was our priority. However, the house edge is not the only thing that matters. As such, these games are not necessarily the best Playtech slot games. However, they all come with RTP rates well above average.
1. Golden Tour – 97.71%
Golden Tour is a relatively simple golf-themed release that comes with only five paylines. However, they pay both ways, which gives the game its distinctiveness. Before the reels start spinning, players will need to choose the coin value, which can be anywhere from $0.01 to $5. Paylines are adjustable, but it's best to keep all of them active. Top Playtech RTP rates are all calculated assuming you're using all the paylines. Once you set up your wagering preference, hit the Spin button and the fun begins.
The reels are populated with golf-themed symbols like clubs, flags, and carts. There's also a pair of golden golf balls, which replace other golf symbols. Using Wild combinations, you may end up winning both left to right and right to left. We can't know the underlying math, but we're sure that's the main culprit for the high RTP of this Playtech game. When it comes to claiming handsome payouts, it's all about the game's bonus round. Land three moles, fish, or ducks in consecution to trigger the feature.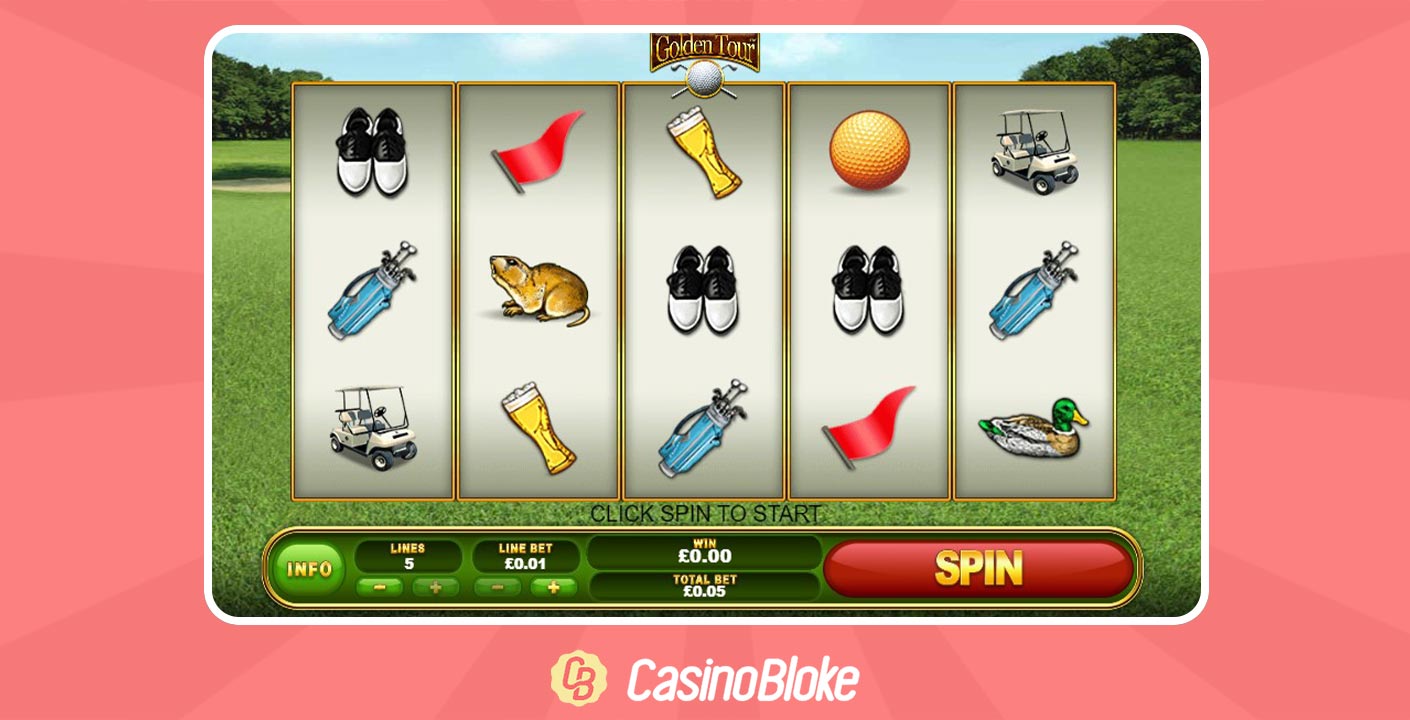 Golden Tour Slot Details
RTP: 97.71%
Reels: 5
Rows: 3
Paylines: 5
Max Payout: 2,000x
Features: Wild, Scatter, Bonus round
Golden Tour may not impress you visually, but it has a lot to offer. In addition to a high RTP, there's a progressive jackpot that has to be manually enabled. Be on the lookout for the Wild symbol, as it not only substitutes for other regulars, but it also awards a prize of 2,000 coins. Still, we'd mainly recommend this title to those who enjoy classic, retro slots, and not just high RTP Playtech games.
---
Play Golden Tour and over 2,000 other slot games at Playamo!
---
2. Desert Treasure – 97.10%
This five-reel slot comes with a nice-looking Egyptian theme and allows players to place bets on up to twenty paylines. Since they are adjustable, you're free to choose how many of them will be active. Symbols on the reels match the game's theme and include an oasis, a compass, and a camel, along with the usual set of low-paying playing card icons.
The golden cobra symbol serves as the Wild, substituting for other regulars and helping players complete additional winning combinations. It also delivers a very lucrative payout worth 10,000 coins every time there are five of a kind across a payline.
A beautiful girl with black hair acts as the Scatter. Landing three or more Scatters will trigger the Free Spins round and award ten spins. You can maximise your winnings during this round. The graphics are simple and won't impress anyone, but it's the game's RTP that draws lots of attention. After all, Desert Treasure has been around since 2005, so you can't expect a lot in terms of graphical fidelity. It's among the best in terms of Playtech RTP rates, though.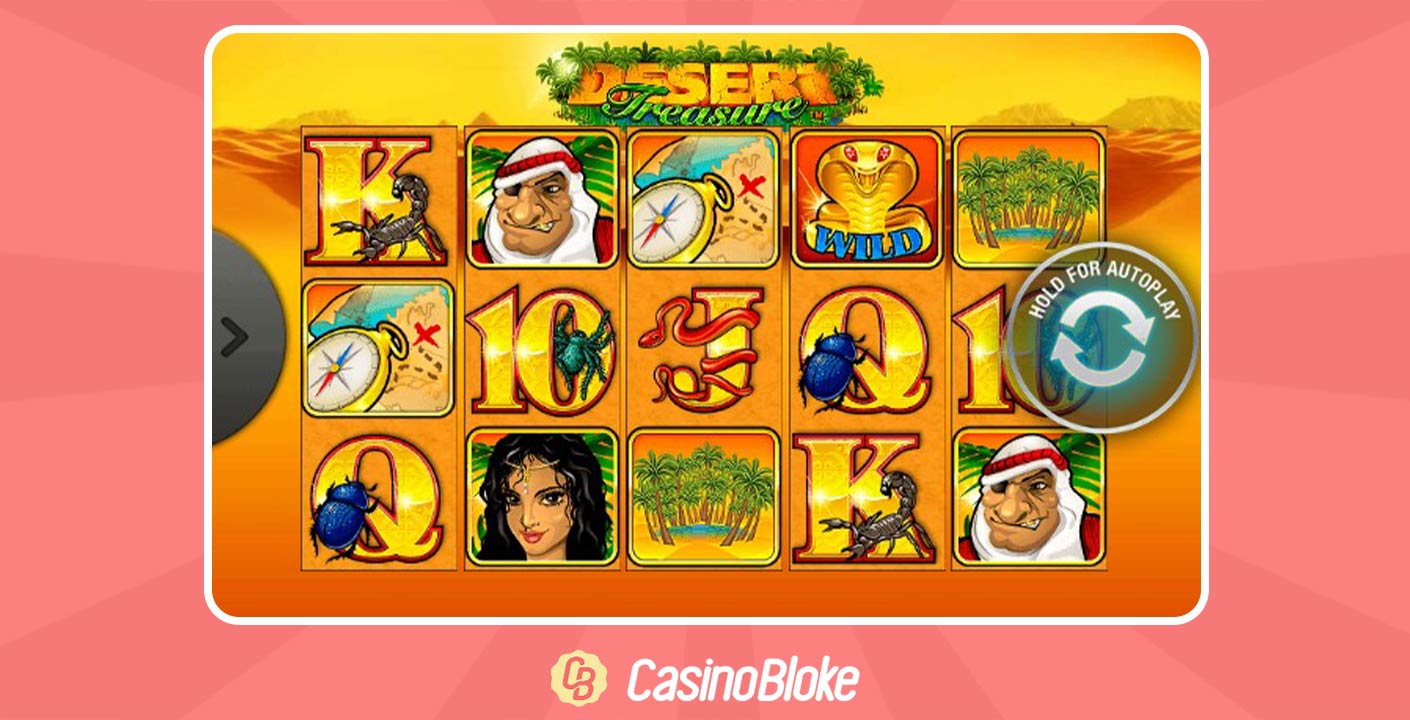 Desert Treasure Slot Details
RTP: 97.10%
Reels: 5
Rows: 3
Paylines: 20
Max Payout: 10,000x
Features: Wild, Scatter, Free Spins
With a nice maximum prize on offer, Desert Treasure is a game worth checking out. If you can get around the rough edges of mid-2,000s graphics, you'll find that the game's simplicity is quite addictive. Even top Playtech slot games were still figuring out things that we take for granted nowadays, such as scatter-triggered free spin modes.
---
Enjoy slots like Desert Treasure with bonuses, free spins, at more at BitStarz!
---
3. Halloween Fortune – 97.06%
Halloween Fortune boasts stunning visuals and, at the same time, features an exciting bonus round. This five-reel release comes with twenty paylines, beautiful witches as the game's symbols, and an exciting Witches' Brew bonus feature. To trigger it, all you have to do is land two cauldron symbols on the leftmost and the rightmost reels simultaneously. Finally a good Playtech RTP game with actually decent graphics! To be fair, Halloween Fortune is much newer than most of the other entries on this list.
Before actually playing the bonus round, you'll have to pick one of the witches to reveal the number of spins you'll be given. With a bit of luck, you can claim twenty spins. Picking a potion bottle reveals a multiplier of up to 10x. The bonus round can be retriggered without any limits, leading to prizes reaching 100,000 coins. There's also the Gamble feature, which allows players to double their winnings immediately after a winning spin. That certainly adds to the excitement.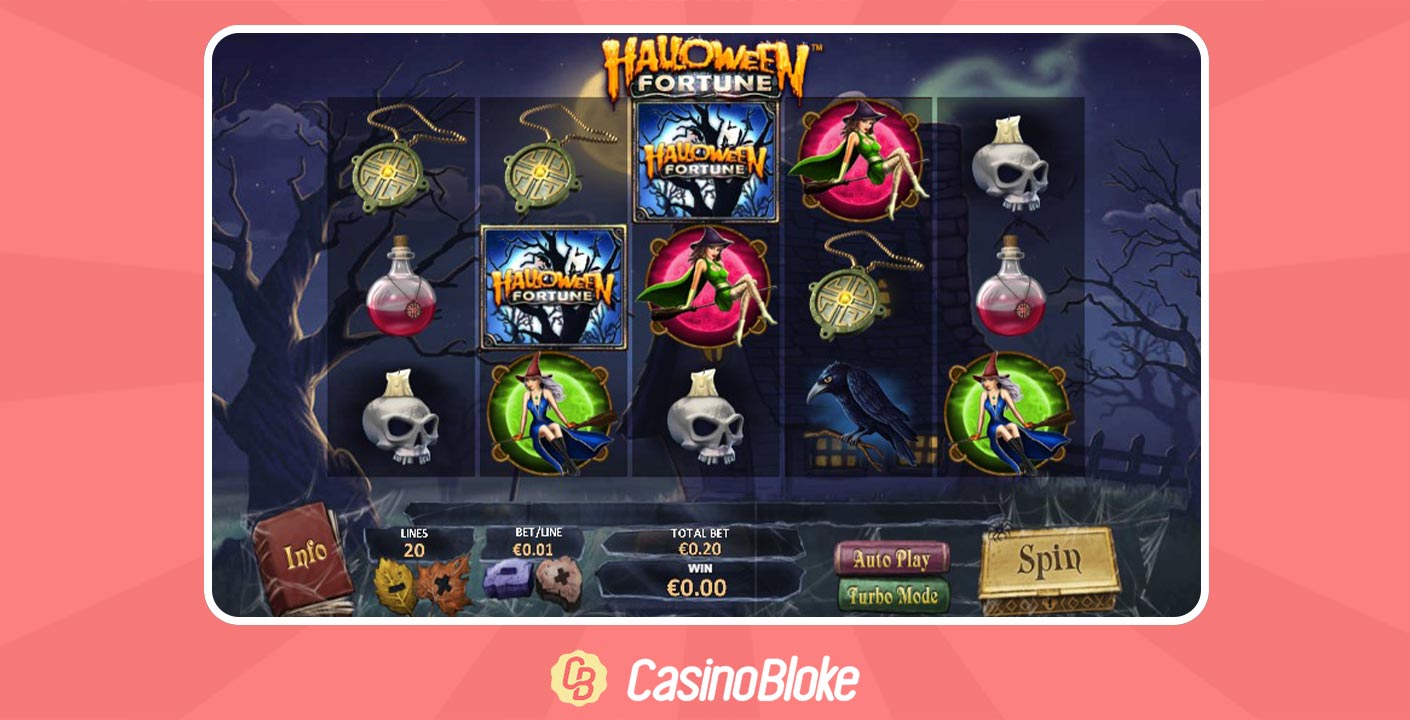 Halloween Fortune Slot Details
RTP: 97.06%
Reels: 5
Rows: 3
Paylines: 20
Max Payout: 100,000x
Features: Wild, Scatter, Free Spins, Multipliers, Bonus round, Gamble
Halloween Fortune is much newer than many ofher top Playtech slots on this list, but the graphics aren't the only difference. It's a matter of design choices. Older games were content to put in one or two features and call it a day. New Playtech slots focus on feature-heavy innovation. Halloween Fortune hides mechanics that make it a fairly complicated online slot with a lot going on behind the scenes. The 97.06% RTP is strong by any measure, though.
---
Try the many features of Halloween Fortune with Mr Green!
---
4. Easter Surprise – 97.05%
This Easter-themed slot brings rabbits, baskets, and Easter eggs to the reels. Easter Surprise is a brightly-coloured game played on a five-reel grid, offering players a total of twenty paylines. The reels are set against the backdrop of a lush forest, and on them, you'll encounter a wide array of symbols. In addition to the usual set of playing cards, you'll see yellow, blue, and orange eggs, a rabbit, a basket full of eggs, and an Easter Surprise.
Whenever you create a winning combination, you'll get the chance to gamble your winnings. Click the Gamble button and pick between a red or black card. If you make the right guess, you'll win. If not, you'll lose your winnings. This feature does not affect the RTP of this Playtech game, of course. It's a risky move, but it actually comes with 100% RTP.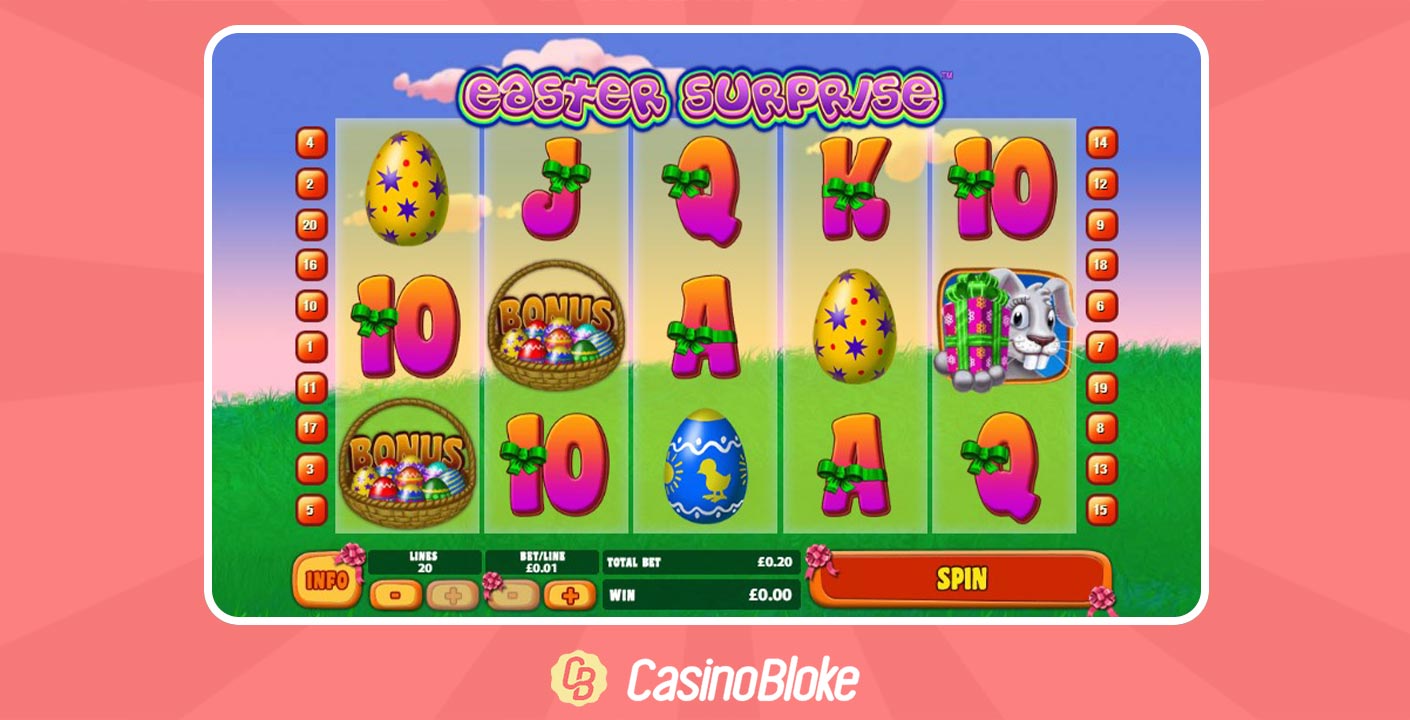 Easter Surprise Details
RTP: 97.05%
Reels: 5
Rows: 3
Paylines: 20
Max Payout:10,000x
Features: Wild, Scatter, Free Spins, Multipliers, Bonus round, Pick & Click, Gamble
Easter Surprise is another fairly volatile slot game. While there are many ways to stack up huge payouts through special features, the basereturns are quite limited. And while the game is mechanically quite modern with relatively young ideas and features, the graphics certainly are not. Keep these things in mind if you opt to play this game.
---
Register at King Billy and enjoy the latest Playtech slot bonuses!
---
5. Lotto Madness – 97.01%
Lotto Madness has two different versions, for both desktop and mobile. Although the two variants are slightly different, they have been equally popular with players. The RTP is slightly higher on the desktop version, which may influence your overall experience. It's a strange sort of drawback and a callback to a time when mobile slots were still a rare sort.
The slot uses a well-known lotto theme, which developers have frequently used. This means that originality is not something this title boasts. Playtech has other, more creative games on offer, but this is the perfect choice for every high roller. Playtech RTP favoring games rarely "think outside the box" in terms of mechanics. But keeping things simple is actually the number 1 reason why they have high RTP in the first place.
Lotto Madness is played on a five-reel three-row grid, with twenty adjustable paylines. Wagering options range from $0.20 to a maximum of $20 per spin. Featurewise, there are Wild and Scatter symbols and an excellent Free Spins round.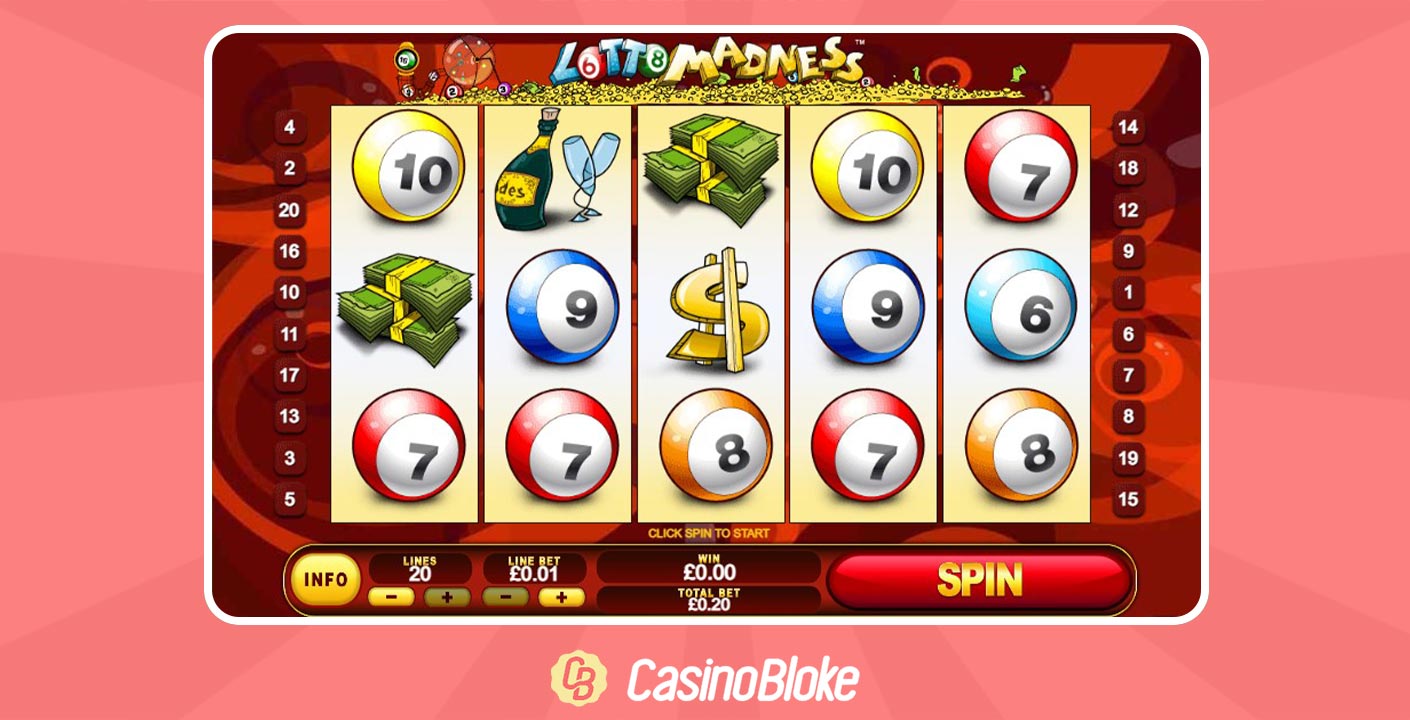 Lotto Madness Slot Details
RTP: 97.01%
Reels: 5
Rows: 3
Paylines: 20
Max Payout: 25,000x
Features: Wild, Scatter, Free Spins, Multipliers
Lotto Madness perhaps feels the most outdated among the games on this list for one reason – it's not as focused. In fact, if this were a regular slot review, Lotto Madness wouldn't rank all that highly. However, it's worth trying out purely for the attractive RTP. The ideas for this game were good – the execution is the part that's lacking.
---
Try out any slot game by Playtech with King Billy and their massive slot portfolio!
---
Best Online Casinos To Play Playtech Slots
There's one thing you should bear in mind. The RTP doesn't mean that a player will win all the money wagered. It also doesn't consider the game's variance. It's possible to have a game with a high RTP that has lower volatility. The theoretical RTP may also change depending on a number of factors. You can find more info on RTP in slots here.
Playtech RTP rates are great and all, but you'll need a casino to take advantage of this fact! No worries – considering how big Playtech is as a gaming company, you're not strapped for options. Still, bear in mind that Playtech slot RTP does not depend on the casino. This developer has not yet implemented RTP rates. As such, your main concern is finding a casino with good payment options, bonuses, and customer support. Here are some quick recommendations.
Click here to visit Bitstarz, Casino Bloke's recommended Playtech casino, and give these high RTP games a try.
The King billy online casino offers up to 200 free spins to new customers. Use them to play any of these Playtech slots with high RTP!