Symbols are the essence of any slot machine. They dictate how the whole thing works, how it pays, and ultimately when and how you win. It makes sense that the differences in how symbols in slots work make up a big part of the uniqueness of every online slot game.
Wild symbols in slots are some of the most common 'special' symbols in gaming. They're found in almost every new slot release. However, if you're a beginner, you may be confused about what wild symbols are or how they work. In that case, you've come to the right place.
What are Wild Symbols in Slots?
In short, a Wild is a symbol that substitutes any other symbol to make winning combinations. It acts sort of like a Joker card would in a card game. Wilds act as the best possible symbol they can be in the given situation.
Wilds generally appear in modern video slots such as Starburst. This NetEnt game is a hugely popular example of how wilds work in slots, so we'll use it to illustrate. In this game, you get a payout for matching 3 or more symbols along one of the 10 paylines.
Let's say we get two identical symbols on reels one and two. These are positioned along a payline, but you can't win without a third one. If you luck out and get a Wild on the third reel, you suddenly have a winning 3-symbol combination! In this case, the Wild symbol will completely act like it was the symbol needed in that situation. This means that you'll get a payout as if you got 3 matching symbols of the type you needed.
Wilds substitute other symbols and can be used to make multiple paying lines in the same round. That's their true power – being whatever is needed in the situation. For example, a Wild can be part of two winning lines at the same time even if these two lines were made using completely different symbols! In this case, the Wild acts as one symbol for one combination and another symbol for the second combination. Your payout reflects this.
However, Wild slot symbols cannot substitute other special symbols. For example, if the game also has Scatters and/or Bonus symbols, a Wild cannot substitute them.
---
Play Starburst for real money and other slots with Wilds at the Spela online casino!
---
How Wilds Work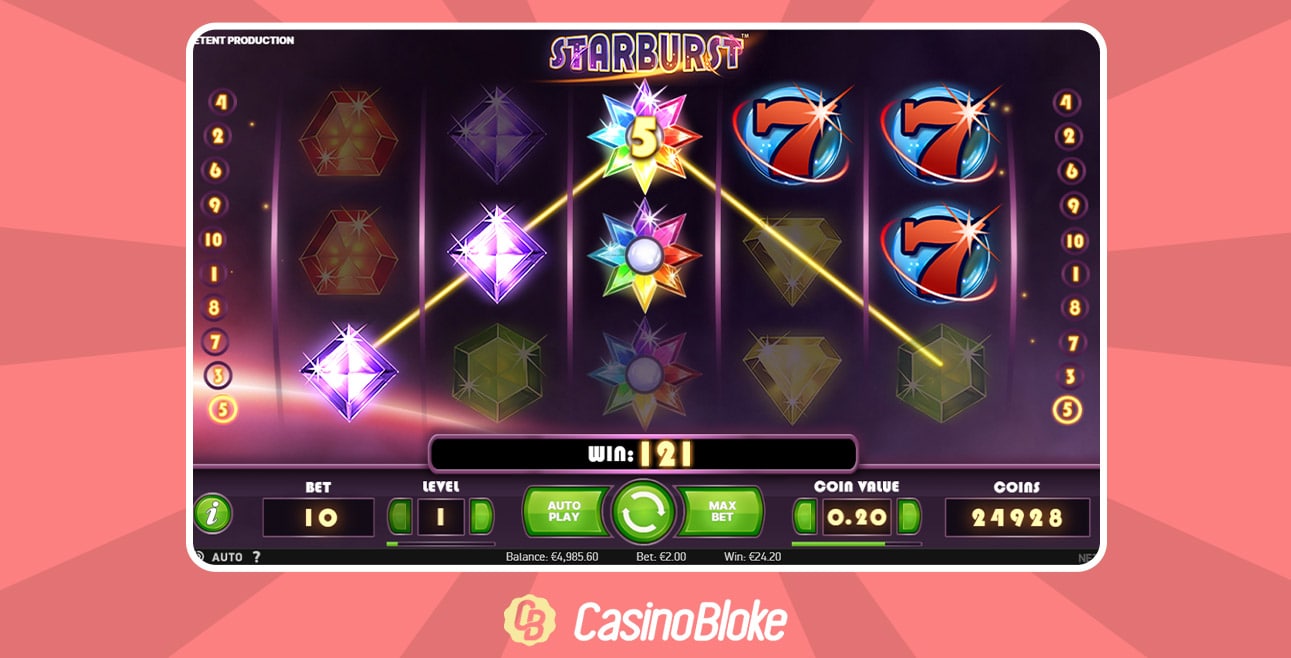 The definition of Wild symbols in slot machines we provided above is the most general one we could give. Beyond that, Wilds can work in many different ways. It's all up to the makers of the game. However, we're going to give you some general guidelines on how to use wilds in slots.
Although Wilds can be anything you need them to be, their position on the reels still matters. If a slot game has a traditional layout with active paylines, any winning combinations need to be on those paylines. Even if you're lucky enough to get a Wild, it still needs to hit the position you require.
That's why Wild symbols are powerful in games that don't have pre-set paylines. Many online slot games simply require you to arrange matching symbols on adjacent reels. In such cases, the position of matching symbols on the reels themselves doesn't matter. This results in hundreds of ways to win, and a Wild can be part of any of them.
Conversely, such games typically do not allow Wilds to appear on the first reel. In fact, it's common practice for these special symbols to appear only on the "middle" reels. In other words, only on reels that aren't the leftmost or rightmost. Otherwise, a Wild appearing on the first reel would almost guarantee multiple winning lines in the spin.
Always read the rules and full paytable of whichever game you're playing. Our casino game reviews can also help with that, as can our casino strategy blog.
Types of Wilds
Being a special feature themselves, Wilds are often part of other mechanics or features in a game. Below, we'll go through a few other types of Wilds and how they work in online slot games.
Expanding Wilds
Stacked Wilds
Sticky Wilds
Random/Bonus Wilds
1.      Expanding Wilds
Sometimes, Wilds expand to cover the entire reel every time they appear. Since these symbols are so valuable, this is almost always a good thing for the player.
We can use Betsoft's recent Wilds of Fortune slot as an example. Wilds are crucial for this game, so the developer made them more impactful. Once you hit a Wild in this game, it will expand to cover the full reel. This pretty much guarantees that this symbol will either improve or be a part of any Wilds winning lines in the game.
---
Play Wilds of Fortune right now at Vip Slots Casino!
---

2.      Stacked Wilds
Stacked Wilds appear in "stacks" or vertical groups consisting of multiple symbols. This type of special symbol is functionally almost identical to Expanding Wilds.
Basically, the base Wild symbols on the reels are always grouped with 3, 4, or 5 instances directly one above the other. The idea is to increase the chances of you hitting the Wild. Conversely, if you do hit one, this mechanic almost guarantees that it should be able to make winning lines.
Typically, one such group covers the entire reels. For example, if a game has 4 rows per reel, Stacked Wilds will appear in stacked groups of 4.
NetEnt's Wild Bazaar comes with several types of Wilds, including Stacked ones!
---
Play Wild Bazaar slot right now on Bitstarz!
---
3.      Sticky Wilds
This type of special feature Wild symbol is also fairly self-explanatory.
Sticky Wilds remain on the board for more than one spin. Here's how it works.
You hit spin and the Sticky Wild appears and stops somewhere on the table. You then hit spin again, and all the symbols on all the reels except the special Sticky spin. The Sticky Wild retains its position but the rest of the table changes, which allows for new potential winnings.
It's important to note that Sticky Wilds are often part of other special features such as free spins. Red Tiger Gaming's Shaman Spins is a great example of this type of slot symbol in action.
---
Play mechanically innovative slot games at Slotsmillion!
---
4.      Bonus Wilds
Sometimes, Wild symbols in online video slots can appear outside the regular gameplay loop. For example, they can simply pop into the reels at random intervals. This is meant to introduce another dimension of fun and excitement.
Cash of Command is a recently-released example of such mechanics.
Slot Games With Wilds and Where to Play Them
Almost every online slot game these days has wilds. Well, at least 80% of new releases implement such mechanics in some form or another. Just scroll through the reviews and you'll find one slot machine with wilds or another.
The same goes for casinos, in fact. Every online casino with slots has wild slots too, so it should be fairly easy to find what you need. Refer to our list of top 5 online casinos for more help.
Alternatively, you can check out Casino Planet and the thousands of slots in its lobby. Players in the US can check out Slotland instead.