Game Details
Provider: Realtime Gaming
Reels: 0
Paylines: 1
Coin Value: €0.10-
Maximum Bet:
RTP: n.a.
Maximum Payout: 50,000 times the bet
Wild: Yes
Scatter: Yes
Bonus Game: No
Free Spins: Yes
Multiplier: Yes
Mobile: Yes
Cubee Slot Review
Embark on an exciting time travel adventure and help RTG's likeable character defeat enemies in this unique video slot free of traditional reels and paylines. Realtime Gaming has this time delivered a one-of-a-kind treat which bears very little resemblance to slot games we're used to playing. You task will be to help Cubee rescue the Stone Age, the Era of Piracy and the Viking Age from malicious Rocco and his buddies and see that he safely returns to his beloved Cubeeland. To show his appreciation, Cubee will be handing out generous free spins and multipliers.
Game Symbols
To match the unusual game set-up, RTG has provided an equally unusual collection of symbols. Rather than populate reel positions, various weapons, enemies and power balls float against the backdrop designed in line with the current time period. Axes, cannons, bows & arrows, opponents appearing in different shapes and colors, and transparent power balls all have unique functions. The enemies – Spike, Casper, Lucifer and Bones – deliver cash rewards, weapons are used to make Rocco weaker, and power balls to increase Cubee's strength. The latter also function as Wilds and each counts as a defeated enemy. Depending on the era, you'll see either cannons or bows & arrows which have the role of a Scatter. During the entire game the two main characters stand on either side of the game area, with yellow, cube-shaped Cubee making the most out of symbols appearing through the time travel portal.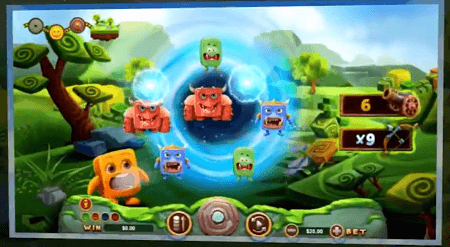 Gameplay
Cubee needs to travel through time, starting his journey in the Stone Age and moving on to the Era of Piracy and finally the Viking Age. In order to hop from one to another, he has to defeat his arch enemy Rocco. Various opponents arriving through the time portal can only be beaten if they are of lower or equal strength. Cubee's default strength level is 1 in each round and will increase by 1 with every power ball that comes out of the portal.
Each time you click the Spin button, the portal will eject a set of 8 floating symbols – enemies, weapons and power balls. You'll see Cubee licking his lips with each enemy that ends up in his mouth and grow strength with every power ball consumed. A payout is awarded for at least 3 beaten enemies, and once Rocco himself has been defeated, Cubee can move on to the next era.
It's important to note that your progress is tied to the amount you're wagering per spin and every bet has its own progress saved. If you decide to change the wager once the game has started, current free spins and multipliers will be saved and the meter updated for the new bet amount.
Special Features
The meter in the upper left corner displays current free spins and bet multipliers. Every cannon that appears during the Era of Privacy increases the number of free games, and each bow & arrow coming out of portal in the Viking Age grows the multiplier. You'll get to use them once Cubee manages to reach his home, Cubeeland. Collected spins play with accumulated multipliers at the bet value used through all three stages of the game. Because Rocco is unable to enter Cubeeland, no weapons will be appearing while you're spinning for free and that increases the feature's win potential.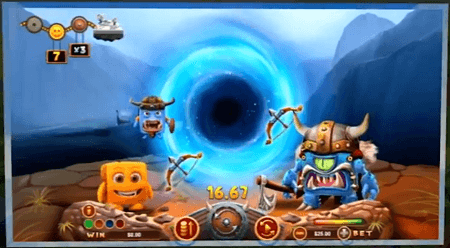 Payouts
Payouts are awarded for a simultaneous appearance of 3, 4, 5, 6, 7 or 8 enemies. Respective prizes start at 0.5x the bet and go up to a maximum of 40x your stake. Enemies with the strength level higher than Cubee's will not contribute towards the payout. Green Casper is the weakest of them all and can be defeated when Cubee has strength level as low as one. The hero will need to consume at least one power ball to beat Yellow Spike, two balls to win against Blue Lucifer, and as many as three to overpower Red Bones.
Cubee on Mobile
Realtime Gaming makes all its new games simultaneously available on desktops and mobile devices, and Cubee is no exception. Players will be able to travel in time using their iPhones, iPads or Android smartphones and enjoy the journey just the same as when playing on a computer.
Pros
+ Unique set-up and gameplay
+ Multiple levels
+ High win potential
Cons
– Yet to be seen
Verdict
Cubee is a breath of fresh air thanks to its unique set-up and a gameplay different to any other slot we've seen so far. Visually, it resembles arcade-type games and there's a nice little Irish tune playing as one spins the non-existing reels. You'll be rooting for the little cube-shaped hero as each of his victories brings you closer to free spins enhanced with multipliers and a symbol collection adapted so it increases your chances of scoring more high-value wins. We can't wait for Cubee to make an appearance at RTG casinos and allow us to join him on his rewarding mission.