About Nordea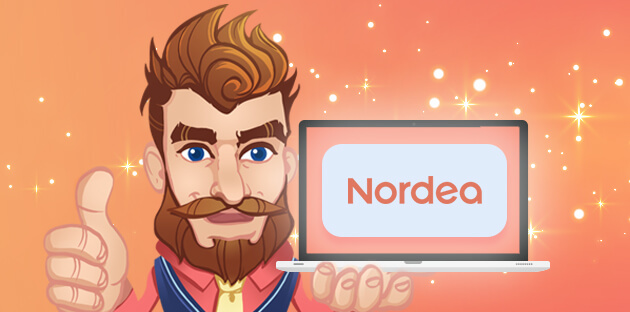 Nordea network consists of 300 banks with their origins dating back to 1820's. Nordea banking group was founded in 2001 when four banks from Sweden, Finland, Denmark and Norway joined forces to provide their clients with premium financial services and today Nordea is the leader on the market when it comes to both corporate and private banking. With 11 million customers and 600 branch offices locations, Nordea established itself as one of the ten largest banking institutions in Europe. Payments via Nordea can be processed in DKK, EUR, GBP, LTL, LVL, NOK, PLN, SEK, SGD and USD.
How to Make Deposits and Withdrawals with Nordea
Choose a gaming venue from our list of Nordea online casinos and go to the cashier's. Look up for Nordea and pick it from available payment options.
As soon as you opt for it, you will be redirected to the Nordea Netbank log in page and you should login into your account by providing your Netbank Access Codes consisting of your ID with a password, one-time security codes and confirmation codes. Depending on the country you come from, the Access Codes can be generated by card readers or provided as physical cards containing one-time codes and confirmation codes. Enter the amount you want to transfer to the casino and complete the procedure by sending your funds from your bank to your casino account.
Nordea applies advanced security measures, so you don't have to worry about the safety of your data as they are all protected by SSL encryption. If you have your codes on in the physical form, keep them safe from the third parties. You can also download the Mobile Banking application allowing you to make your deposits on the go without too much hassle. To make withdrawals you will have to choose another banking option as Nordea cannot be used for this type of transactions.
HOW DO I KNOW THAT NORDEA IS THE RIGHT SERVICE FOR ME
Easy! Nordea is pretty clear about their package for private users and every aspect of handling your online transactions is made extremely simple with their payment cards and available online and phone customer support. The advantages of opening an account with Nordea can be summarized as follows:
Issuing on-request Visa and MasterCards smart payment cards (and subcards) in RUB, USD and EUR
Detailed records of all your account movements – if there are any transactions that you do not recognize or feel you may not have approved, you can simply contact the Nordea local support team and request their assistance. The copy of your account statement will also be provided by fax or email.
Online account handling – whatever you want or need to do can be performed online, under My Transactions tab or via Nordea's remote banking service.
Ability to perform card-to-card transfers
Customizable transaction limits – the users can decide on the amount limit and protect themselves from any unauthorized card usage
3D Secure technology  – additional protection achieved by authenticating a user through a one time only code (sent to your personal phone number) which you need to enter in the designated field in order for the payment to be processed.
Fees & Timeframes
When making your payments to online casinos of your choice you don't have to worry about additional costs as online casinos don't charge any fee on your transactions made via Nordea. Fees charged by Nordea vary depending on the country you come from and the type of transaction that you make.
Cross-border Nordea payments for Swedish residents come at a fee of SEK 30, for Norwegian clients at a fee of NOK 60 while clients from Denmark are charged DKK 40. Fees are not applied to transactions made by Finnish customers. Transactions are processed instantly and your funds will be at your disposal to wager them on your favourite casino games as soon as you complete the procedure.
CUSTOMER SUPPORT
Although primarily designed for Scandinavian users, Nordea is also opened to Russian residents, with terms and conditions provided in local languages as well as in English. If you have any questions, their customer service can be reached from 9am to 6pm – local time zones; alternatively, you can send a fax, email them or use an online form to submit your comments and inquiries.
Why Use Nordea
With no fees applied to your transactions and the highest level of security guaranteed, Nordea is a prefect choice for online casino players from Nordic and Baltic region looking for a convenient and safe payment method. Deposits via Nordea are processed instantly in an online banking environment which is already familiar and you can make them on your mobile device. Act responsibly with your Access Codes to keep your account and data safe to avoid any inconvenience while making your payments in your national currency.
As you can see, their services cover a wide range of different needs, both personal and professional. One of the key reasons to opt for Nordea is the convenience it offers, constantly updating their tools and providing online support to their clients.
Pros and Cons
Enables payments via familiar online banking system

Operates in 17 countries (Nordic and Baltic regions, Poland, Russia)

Fully safe thanks to NemID and multiple authentication steps
Nordea bank account is required to use the service

Not available for withdrawals