About Perfect Money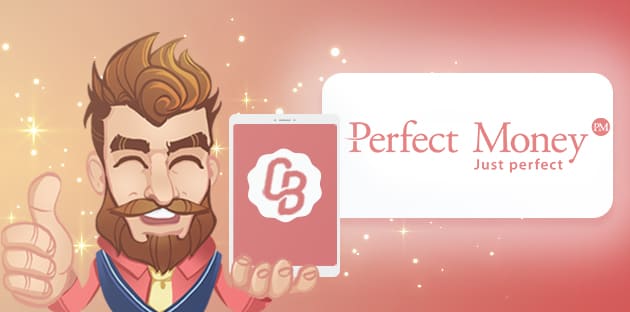 Perfect Money was founded in 2007 by a team of bankers, economists, lawyers, and fintech specialists. They aimed at developing a full-fledged financial service that supports both individual and business accounts. You can open accounts in USD, EUR, BTC, or even troy ounces of gold and start online fund transfers immediately. If you wish to make bank transfers, you'll need to verify your profile. The procedure requires you to upload a photocopy of your valid ID, provide a phone number, and answer the phone call. So, the authentication process is fast. It allows you to start paying with bank transfers and even reduce service charges for processing domestic payments. One of the available options to fund your Perfect Money eWallet is Western Union.
You can use the payment provider for various purposes. You can shop online, send and receive money, and store funds and receive monthly interest. Also, you can keep your assets in cryptocurrency and buy Bitcoin and gold or exchange USD and EUR online. Perfect Money even markets its own digital currency and says that you can exchange it for cash or other electronic currency. You can find a list of more than 250 certified exchange partners the company recommends you to use for exchange purposes.
The company is supposedly based in Panama. In 2013 the media reported about the incident that involved Perfect Money. Cybercriminals allegedly used Perfect Money digital currency for money laundering. After such accusations, Reuters tried to reach out to the company for a comment. But, they failed. Reuters also couldn't determine who owns Perfect Money. The Panamian government said that Perfect Money didn't have offices in this country. Furthermore, the government confirmed that the company didn't receive any license from the country regulators to operate there. Another piece of information we found regarding the company is that it was founded in Panama but has an office in Zurich, Switzerland. But, if you open the Contact us page, you will also see Startup Research & Investments mailing address in Hong Kong. Confusing, indeed.
How to Make Deposits and Withdrawals with Perfect Money
Making deposits with Perfect Money is really perfect. But, before you start, make sure to top up your Perfect Money account. Visit the online casino of your choice and log in. Or create an account if you don't have it. Now, visit your profile page and go to the Deposit section. Look for Perfect Money logo among deposit methods and click on it. A new window will pop up asking you to provide the account number, password, and the sum you want to deposit. Confirm the transaction, and that's it. You can go to the casino's game lobby to pick your favorite game.
Although deposits are straightforward, you must have noticed one interesting detail. We haven't mentioned any authentication requirements. Unlike other digital wallets, Perfect Money doesn't have automated security measures like SMS one-time password. To enable such protection, you need to set it up yourself within the account. We consider this a major security flaw that needs to be changed ASAP.
As for withdrawals, the procedure is identical. Log in to your account and head straight to the cashier section. Choose Perfect Money as your preferred withdrawal method. Enter the exact amount you want to cash out and provide your account number and password. Now, you only need to wait a bit to see the funds arrive in your account.
WILL I BE ABLE TO WITHDRAW?
Yes, you will be able to withdraw winnings with Perfect Money. However, keep in mind that online casinos have different T&C and business models. In other words, some casino sites may not offer withdrawal services with Perfect Money. We advise you always to visit the casino's banking page and carefully read the Terms and Conditions before you deposit funds. If the casino doesn't allow cashouts with Perfect Money, you need to check which alternatives you have at your disposal. And then select the one that best suits you.
Fees & Timeframes
Perfect Money charges a 0.5% fee for bank transfer deposits. If you need to exchange the currency, the company applies the daily market rate. Internal transfer fees range from 0.5% for verified and Premium accounts to 1.99% for unverified ones. There are no annual maintenance fees. But, believe it or not, if you activate SMS security notifications, you will pay $0.1 for each SMS. Also, if you need to restore the account, the service will cost you $100. Perfect Money allows you to withdraw the funds from the wallet to your bank account. However, you will pay a bank wire transaction, starting from 2% + bank fee.
The deposits with Perfect Money are processed immediately. Surprisingly, withdrawals are also pretty fast. You can expect to see the funds in your account within 24 hours. However, remember that casinos have different pending periods. It means that at some Perfect Money casinos, you may wait longer to receive the funds. The service allows you to transfer the funds from the wallet to your bank account. Transactions via wire transfer usually last 2-5 business days.
CUSTOMER SUPPORT
Perfect Money doesn't provide standard customer support. You can't send them an email, speak to a live agent, or use live chat to reach out to the support. The company says that email communication is not safe enough as messages can be intercepted. So, they decided to offer a secure ticketing system.
The system issues unique PIN codes for each ticket you submit. You will use the PIN code to access the conversation between a support agent and yourself. We consider this as a good solution as many tickets and responses to them contain sensitive data. However, having a ticketing system as the only communication channel is unacceptable.
Why Use Perfect Money
Although Perfect Money is not as popular as some other eWallets, it has its advantages for online casino gaming. Perfect Money offers its services across various markets, including the EU countries, Russia, India, and Latin America. This is a flexible and convenient payment method that allows you to use multiple currencies. You can create an account in USD, EUR, and Bitcoin.
One of the main benefits is that Perfect Money will allow you to both deposit and cash out winnings from your casino balance. Deposits are instant, and withdrawals can be super fast. Finally, the company strives to ensure maximum safety, offering a secure ticketing system to contact customer support.
Pros and Cons
Instant deposits

Supports Bitcoin

No need to share banking info

Fast withdrawals

Available in multiple languages
Not many online casinos offer Perfect Money

Various fees, including charges for the SMS security notifications