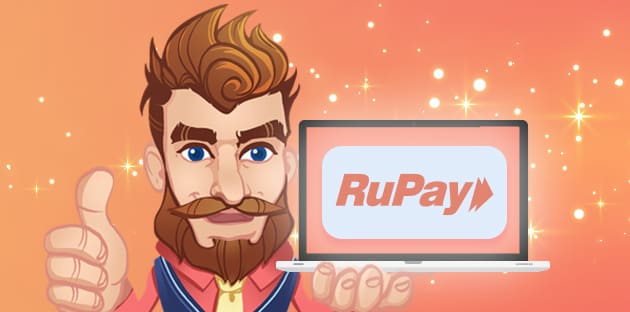 RuPay was rolled out in March 2012 by the National Payments Corporation of India (NPCI). NPCI was launched by RBI and the Indian Banks' Association in 2008. Since then, NPCI has been the official digital payment provider in charge of processing electronic transfers in the country. You're probably already familiar with NPCI. The company created another popular online casino payment method in India, UPI.
As the second-most populous country in the world, India is an attractive market for many international financial brands. Financial giants like Visa and Mastercard offered their cards and banking services to many Indians. However, as technology evolved, the central bank of India (RBI) realised that these providers don't offer all the features Indians could use. So, they quickly recognised the need for a domestic card payment network that would meet the needs of the Indian market. As a result, RuPay was born.
RuPay is an indigenous card scheme created to fit the needs of Indian consumers and facilitate digital transactions at Indian banks. RuPay cards can be used for online transactions, cashless payments at various POS devices and ATMs. As an official project of NPCI, RuPay ensures the highest security levels and employs cutting-edge anti-phishing technology. At the same time, RuPay is another electronic payment solution driving the "less-cash" economy endorsed by India's central bank (RBI). As their motto says, RuPay secures a dream of a cashless India.
You can get your RuPay bank card at more than 1,100 banks in India. The mere number shows how popular the RuPay brand is. Public Sector Banks, Private Sector Banks, Co-Operative Banks, and Regional Rural Banks are all authorised to issue RuPay cards. Some of the most popular banks that promote RuPay products include Union Bank of India, State Bank of India, ICICI Bank, HSBC, and Punjab National Bank.
RuPay offers various debit, credit and prepaid cards and a wide range of different banking services and solutions. You can get a RuPay Classic Credit Card or its Platinum version. Or, if you prefer debit cards, you can also pick RuPay Classic Debit or Platinum Debit Card. Platinum card variants were introduced in 2014. They allow users to benefit from promotions and discounts from multiple merchants who partnered with the brand. Finally, RuPay offers Classic and Platinum prepaid cards that also come with various features and benefits.
RuPay has several other Government scheme cards, like PMJDY Debit Card, Kisan Credi Card, RuPay Mudra Debit Card, and PunGrain Debit Card. But, the company is also devoted to delivering innovation into the financial ecosystem. Consequently, it offers RuPay Contactless following the vision of "One Card for all Payments." The product facilitates seamless transactions across various offline and online services, including transport and retail shopping. RuPay 2.0 introduces Ru-Pay On-the-Go using smart wearable devices, and RuPay AutoPay allowing cardholders to activate one-time registration for recurring payments (like bills).
As you can infer from all we've said, RuPay is not just a bank card network but a fintech using state-of-the-art technology to offer innovative products and services. However, the main products it provides are bank cards. So, using RuPay doesn't include setting up an account. You only need to visit the bank, select the card you want to use, and apply. To start using RuPay cards at online casinos, you'll need to link them to your bank account. And, that's it.