About DineroMail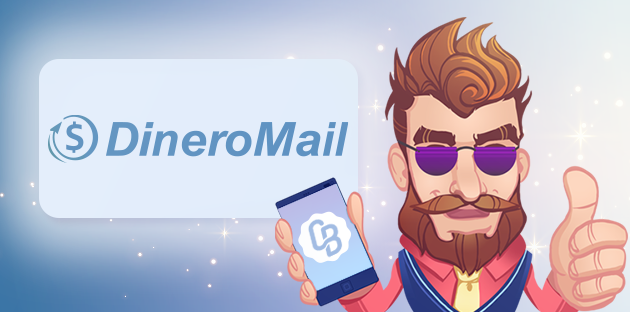 DineroMail is an online banking method that allows players to deposit funds in multiple ways. It was founded in 2004 and is popular in Mexico, Chile, Colombia, Brazil, and Argentina. This is an electronic payment processor that facilitates online transactions. During 2013 and 2014, DineroMail and PayU Latam merged, so the parent company is PayU. PayU is a fintech company that operates in more than 50 markets worldwide.
DineroMail is a payment method that allows players to deposit funds to online casinos using several options. You can make payments with cash, bank cards, bank transfers, or eWallet, depending on your country of residence. The service acts as a gateway between your payment service and your online gaming account, keeping your personal and financial data confidential. This is the reason why DineroMail is very popular among online casino players from Latin America.
To start using the service, you don't need to register a separate account with this payment provider, except if you wish to use eWallet. Next, you need to check which payment methods are supported in your country. To do so, visit the official PayU's website, or simply log into your online casino and visit the payment page to explore the options.
How to Make Deposits and Withdrawals with DineroMail
DineroMail allows several ways to transfer money to your online casino balance. If you decide to pay by cash, you need to print an automated receipt with a barcode and head to a store that accepts DineroMail cash payments. Other deposit options include bank cards and bank transfers.
To fund the account with a credit or debit card, you only need to follow the standard procedure of filling out a form with the necessary data: card number, expiry date, and CVC code. For bank transfer payments, you will also have to provide the required information, such as bank account details. The system will redirect you to your bank's internet banking platform to finalize the transaction.
Finally, there is an eWallet you can fund with various methods that will vary depending on your country. Once your eWallet has enough funds, depositing is easy as with any other digital wallet.
The good news is that all four types of deposits are fast and completely anonymous.
WILL I BE ABLE TO WITHDRAW?
However, most online casinos don't offer DineroMail as a withdrawal option. Only eWallet may be eligible to collect the funds, but few casinos allow this option. However, we found information that withdrawals with DineroMail are possible, but it's at the casino's sole discretion to decide if this service will be enabled.
Fees & Timeframes
DineroMail deposits are processed immediately, allowing you to head straight to the casino games lobby and select your game. As for withdrawals, since you'll most probably have to choose an alternative cashout method, the withdrawal timeframe will vary depending on the service you've picked.
DineroMail allows you to deposit a minimum of $25, while casino operators will define the maximum amount.
Another great benefit is that online casinos don't charge fees for payment with DineroMail. Be aware that this might not be the case at all casinos, so we advise you to read T&C and check the payment page before transferring the money.
CUSTOMER SUPPORT
If you have any questions regarding DineroMail, you can contact PayU directly. Visit the official PayU website and in the main menu section International find your country. You'll be redirected to the localized web version. You can then visit the Support page to find an FAQ  section, or if you can't find the answer to your question, you can submit the inquiry through an online form. Furthermore, you can use the Live Chat feature at the bottom right or write an email. Each country has a different email, so visit the Contact Us page to find the right one.
Why Use DineroMail
DineroMail is a versatile and flexible online payment processor. It allows four different payment solutions players can use to fund their casino balance, including direct cash payments, which is very important to gamers from Latin America. As a result, almost anyone can enjoy playing games at online casinos since at least one of these four options should be supported.
However, the crucial benefit is that DineroMail allows deposits with cash in local currencies. Furthermore, the service is safe as it processes various types of funding through a single intermediary. In this way, DineroMail safeguards your private and financial data from being compromised online.
On the other hand, by implementing DinaroMail, online casino operators will grow their presence in most Latin American markets and attract more players.
Pros and Cons
Four different methods to make payments

Cash deposits

Deposits are available instantly

No service fees
Limited number of online casinos

Not available outside of Latin America

DineroMail withdrawals are not possible