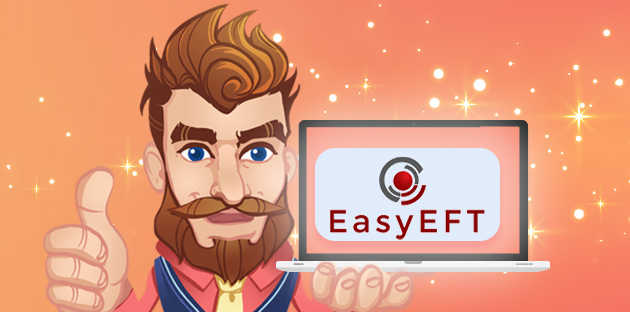 Online gambling has become pretty big in South Africa, and much of this has to do with smartphones becoming a daily necessity. Today, just about anyone can partake in casino games over the internet. While this rise in popularity is certainly a good thing for the iGaming industry as a whole, it created a certain type of friction.
The best way to describe this friction would be to tout is as a lack of compatibility between the gaming technology we encounter and the payment options that are used. Since everything happens online now, cyber attacks have become commonplace, especially in areas where online gaming is still in its nascent phase.
To tackle this particular problem, a group of fintech experts and online merchants joined forces in 2014 and created EasyEFT. Just as the name suggests, it was created to be easy to use.
Casino sites can seamlessly integrate the platform onto their sites, while players can have unlimited fun once they create an account. It's no coincidence that every EasyEFT casino in South Africa is reputable and highly rated.
Even though we see many platforms touted as 'revolutionary', EasyEFT is not so undeserving of the title as it may seem at first glance. They're one of the only fintech companies that are looking to help both customers and merchants find easier and smoother financial solutions. And online gaming is just the tip of the proverbial iceberg.
EasyEFT is a unique payment solution because of its relationship with banks. While other eWallets also require you to connect a bank account, EasyEFT only deals with the most reputable South African banks – Standard Bank, Investec, Nedbank, ABSA, Capitec, and FNB.
All of these institutions are internationally recognized and known for their security, which makes the whole transaction process much faster and more stable. But how exactly does one send/receive money using EasyEFT? Here's how the whole process goes:
Create an account at the official EasyEFT website. The fact that this company has an HTTPS certificate is a great benefit, as it signifies their devotion to security.
As a part of the account creation process, you will be asked to pick a bank. EasyEFT will serve as an intermediary between you and the bank. It effectively shields all of your data while still maintaining the same level of efficiency and speed.
You can pick a bank every time you make a transaction at a site, whether it's Fun Casino or a different brand. This feature gives you ample room to experiment and find the best possible option for your specific needs.
Once you've picked a bank, you will have to log into your Internet Banking account and accept the connection between your EasyEFT account and the banking one.
For additional security, you will also be sent an OTP (one-time password). This unique form of 2FA lets you confirm the merger between your two accounts while staying impervious to data theft. As soon as the password in input, it becomes invalid. Enter the OTP and the payment is confirmed.
You will receive a message/email that the transaction is complete, and you will be redirected back to the casino page.
WILL I BE ABLE TO WITHDRAW?
Of course, EasyEFT is a two-way street, so to speak.
The aforementioned six-step guide is merely for deposits. EasyEFT withdrawals are much easier, as all you have to do is pick a bank, enter the OTP, and wait for the funds to land into your bank account. After that, it's just rinse and repeat, basically.
Casinos with EasyEFT payments will easily remember your information, which might sound concerning. However, if you pick reputable sites such as PlayOJO, Genesis Casino, or All British, you won't have to worry about security. They use various forms of encryption, rendering all DDoS attacks and theft attempts essentially futile.
Every second counts, especially when you're having fun. That's precisely why we love EasyEFT deposits so much. If you're used to the snail's pace at which VISA transfers happen, you will share our sentiments.
EasyEFT provides instant transfers, which means that the service will immediately alert you if you have a payment. However, things can get a little tricky because of the presence of banks. Since every bank is highly regulated by the South African government, it has to verify each transaction before it's officially cleared.
That's why, even though transfers are instantaneous, you can still run into waiting times of 2-3 business days. eWallets can't function without banks (yet), so it wouldn't be fair to immediately admonish EasyEFT for having long waiting times.
The same goes with fees. Unlike PayPal, Neteller, and Skrill, EasyEFT imposes no fees whatsoever. Unfortunately, your bank still has the right to take a certain percentage from the transaction.
Before playing at any casinos with EasyEFT payments, contact your bank to know the exact amount you will be forced to pay. There's nothing worse than realizing that you've ended up with less money than what you initially accepted. Preparation is the solution to everything.
CUSTOMER SUPPORT
Customer support is by far the worst part of the entire EasyEFT experience. Not only is it laughable for a legitimate fintech company to accept only email form inquiries, but response times can also be iffy. We also don't like the fact that there is no FAQ page, either.
On the other hand, the customer support agents themselves are very polite and forthcoming. They know their stuff and can essentially guide you through the whole process.
EasyEFT should definitely work on this particular section of their company. More employees, live chat clients, departmentalization, and a phone line should all be on EasyEFT's bucket list right now.
Human contact can both attract and put off customers, so it's essential to invest in good customer support. It's the only way a fintech company can survive for longer than 5-10 years.
We personally love EasyEFT deposits and withdrawals, because of the privacy and speed involved in the process. Not only are you concealing your most private information (CCN, CCV, and name/surname), but you also get the benefit of instantaneous transfers.
All in all, the platform is safe and smooth and is an ideal option for beginners, as well as seasoned casino enthusiasts.