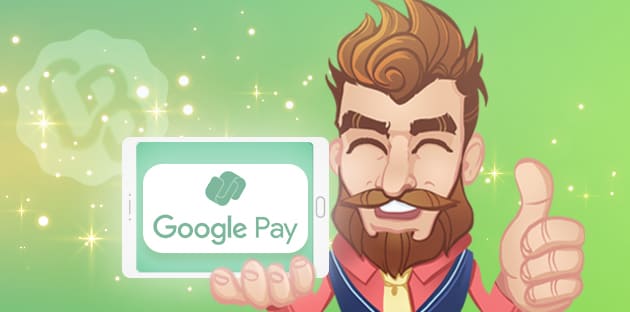 Google Pay is Google's proprietary payment solution. However, the story of G Pay begins in 2011, when the company first launched Google Wallet. It later became Google Pay Send, a peer-to-peer payment service. Google Pay Send enabled people to send and receive money from their smartphones or desktop computers. Then, in 2015, Google released another financial product, Android Pay, based on Google Wallet. Finally, in 2018, Google decided to put all these services under one umbrella called Google Pay. Google Pay is currently available in almost 80 countries across the world. Also, the number of users is exceeding 150 million.
The payment platform is straightforward and doesn't require a complicated verification process. You only need to download the app or sign in to pay.google.com and add payment methods you wish to use for online transactions. You can send and receive money and top up Google Pay balance using bank accounts, credit and debit cards. Google Pay supports the following bank cards: American Express, Visa, Mastercard, Discover, and JCB.
However, before all this, you definitely have to register a free Google account. Once you've finished the registration, enter the account dashboard. Open the "Payments & subscriptions" section on the left-hand side. Click "Manage payment methods" to add payment methods to your Google Account and start using Google Pay.
Now that you've created a Google account, you can open Google Play or Apple Store to install Google Pay. Remember, Google Pay for iOS is enabled only in the US and India. Download the app, add the mobile phone number you want to connect with your G Pay, and log in to your Google account. You will receive a one-time password, enter it, and click next. You've signed up for Google Pay. Now, link a valid bank account with the platform, and add bank cards you want to use for online casino transactions. That's it.
If you wish to unlock higher transaction limits and gain access to G Pay balance, you need to verify your identity. You may be asked to provide additional documents or a selfie. Information on what needs to be submitted will be provided in the app.
The tech giant has been working on a new Google Pay app version since November 2020. In March 2021, the company released a redesigned app. The users of the old Google Pay had time to upgrade to the new version. From March 2021, the old app is no longer available for download from Google Play Store. And as of June 15th, 2021, you can't send, receive, or withdraw money using the old version. The new G Pay app focuses more on person-to-person (P2P) payment transfers than contactless card payments.
Google is working on bringing G Pay to all its products. It means that you should have the same checkout experience whether you're shopping on Chrome or using Google Assistant. The company is also constantly working with numerous partners to accept Google Pay transactions. Moreover, Google had even set up a task to reach the 3,000-banks milestone in the US. The list of US banks and financial institutions that support Google Pay has been steadily growing. Finally, Google managed to surpass the magical number of 3,000 US banks supporting G Pay in June 2021. Knowing that there are more than 5,000 financial institutions in the States, there's still plenty of room to grow.
Alongside the new app, Google has also been working with trusted financial institutions on creating Plex. Plex is a new mobile-first bank account integrated into Google Pay. The platform will allow banks and credit unions to offer Plex checking and savings accounts directly through the app. So far, 11 financial institutions have partnered with Google to support the Google Plex account.