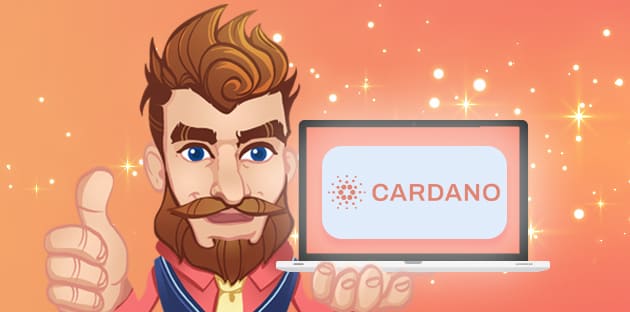 Potential "Ethereum-killer." The other name for Cardano. Such a nickname requires a few significant features to make Cardano ADA stand out. Cardano was founded in 2015 by Charles Hoskinson, the co-founder of Ethereum. So, the bold statement from the beginning starts to make sense. The platform was officially launched in 2017, and it immediately positioned itself as an alternative for Ethereum. Both platforms have similarities, but Cardano went a step further. It claims to be an updated version of Ethereum and a third-generation cryptocurrency. Furthermore, Cardano aims to resolve some of the most common Bitcoin and Ethereum sustainability and scalability issues.
Cardano is the first crypto platform developed on evidence-based methods. The platform uses cutting-edge technology to provide maximum security and sustainability. It is built on a proof-of-stake (PoS) protocol, Ouroboros, the first peer-reviewed secure blockchain protocol. The new approach distinguished Cardano from other cryptocurrencies that used proof-of-work (PoW) protocols. And, this proved to be Cardano's main competitive advantage.
Cryptocurrencies are generally complicated enough to understand. So, we're sure you're asking yourself now what proof-of-stake means exactly. And what are the benefits that put Cardano ADA head and shoulders above the competition? The proof-of-stake algorithm is used to create blocks and validate transactions. But, unlike its proof-of-work counterpart used by Bitcoin, it reduces energy expenditure. As the team behind Cardano says, Ouroboros is the most environmentally sustainable blockchain protocol. Some data even showed that the Ouroboros algorithm is 20,000 times more efficient than Bitcoin's mining system.
In other words, the Ouroboros spares vast amounts of computing power needed for maintaining the blockchain. PoS protocols use miner's tokens as the collateral powering the system. In this way, the new algorithm is both eco-friendly and cost-efficient. Simply put, Cardano's Ouroboros protocol enables fast transactions with minimal processing fees.
Cardano is a unique project that involves three independent entities. Cardano Foundation,  EMURGO, and  IOHK are equally responsible for Cardano's development. IOHK and Cardano Foundation are non-profit, while EMURGO is the for-profit arm of Cardano. IOHK is a blockchain engineering company in charge of developing Cardano. Charles Hoskinson and Jeremy Wood co-founded IOHK after Hoskinson left Ethereum due to a dispute with Ethereum's key person, Vitalik Buterin. The platform was named after a reputable Italian mathematician Gerolamo Cardano. And Cardano's token ADA was inspired by a 19th-century English mathematician Ada Lovelace. She is famous for being recognized as the first computer programmer. And she was the daughter of the well-known poet Lord Byron.
To start buying and using Cardano ADA, you first need to set up the Cardano wallet to store cryptocurrency. Cardano recommends two primary ADA wallets. The first one is IOHK dedicated desktop wallet Dedalus. The second one is Yoroi, the EMURGO's light wallet. But, you can also use other third-party wallets too. You can select a hot or cold wallet.
The first one is connected to the Internet, and you can access it at any time with the requisite key. The cold wallet is an offline solution ideal for storing funds you don't need to access frequently. Cardano says it is supported by Trezor and Ledger hardware wallets. Once you decide which wallet you want to use, set it up, wait for activation, and then request your unique address. Finally, buy ADA with fiat or other cryptocurrencies using cryptocurrency exchanges. Now, it's time to visit the casino and have some fun.