About Ethereum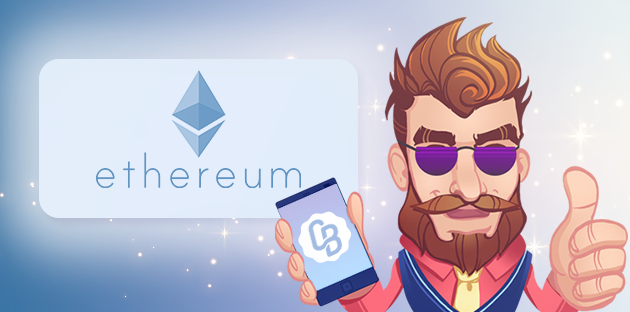 Like many cryptocurrencies, Ethereum has a long list of founders. The idea behind it was first described in late 2013. The original idea was to attach Ethereum's scripting language and blockchain technology to Bitcoin. The idea was that this would allow developers to build apps around Bitcoin. The idea never took off, however. As such, Vitalik Buterin and several others got together to create Ethereum.
While it started humbly, it quickly began to expand rapidly. The Ethereum Foundation, a non-profit, was established to oversee the development of this new project. In 2017, Ethereum saw a massive boost thanks to the formation of the Enterprise Ethereum Alliance. This non-profit saw big names like Microsoft, Intel, Scotiabank, MasterCard and many others get on board the Ether train.
All of this effort has led to Ethereum becoming as widespread as Bitcoin is right now. The process of acquiring it is quite similar. You purchase it with real money through a coin exchange or a decentralised exchange. From there, you can keep your crypto with the exchange, or with a wallet. The wallet is the more secure option, as it prevents hackers from getting access assuming you take proper precautions.
How to Make Deposits and Withdrawals with Ethereum
Provided you have your wallet all set up, transactions are relatively simple. Your wallet will have a public Ether address, which serves a similar purpose to an e-mail address. When you first transfer your purchased Ethereum to your wallet, you sent it to that wallet's address. Your address is unique to your wallet, and this is true for every individual wallet out there.
When you need to make a deposit to an online casino, you transfer your Ether to their wallet. How that exact process works depends on the wallet you are using. However, it functions similar to a transfer of funds from an e-wallet to the operator. Please be careful and triple-check everything when depositing funds. Cryptocurrencies do not have a support system in place if you accidentally send too much, or to the wrong Ethereum address.
As far as withdrawals go, they are handled identically to transferring crypto from an exchange to your wallet. The online casino will request your wallet address, which you copy over. Provided you entered everything correctly, the funds should appear in your wallet almost instantly.
WILL I BE ABLE TO WITHDRAW?
Thanks to cryptocurrencies using similar safeguards as e-wallets, withdrawals function almost identically. Apart from processing time the operator might have, Ether withdrawals should appear in your account almost instantly. Please make sure you have correctly entered your address when withdrawing. There is no way to refund that money.
Fees & Timeframes
If you never used a cryptocurrency before, you may be wondering how it works exactly. To simplify matters, people use powerful computers to 'mine' coins and get to keep a portion of them. For everyone else who wants to use the coins, we have to purchase them! This is where the fees for using Ethereum come into play. The fee for purchasing Ether ranges from 0.25% to 5%, depending on the broker and the sum you are buying.
However, that is likely the only fee you will come across when using Ethereum. Once the funds are in your wallet, you can deposit and withdraw them without any extra cost. Keep in mind that operators may impose additional fees on their end. However, these are separate costs and have nothing to do with the actual Ether transaction.
CUSTOMER SUPPORT
To keep it brief; there is not any. Using your own wallet gives you full and secure control over all your cryptocurrency funds. At the same time, it also gives you full responsibility for what happens. There are no refunds or anyone to turn to if you do not secure your wallet properly. You have to accept this trade-off for the privacy cryptocurrencies offer.
Why Use Ethereum
Just seeing the incredible growth of the Ethereum environment tells us that it has a bright future ahead. Despite so many complaints that crypto was just a fad, it still holds strong to this day! We believe Ether is in the best position to grow and expand in the future as a result of all the extra things it offers.
As the second-largest cryptocurrency, it has widespread support among casinos that accept crypto. It has a lower initial cost than Bitcoin, too, which makes it more accessible.
Pros and Cons
Fantastic for privacy

Instant transactions

Ethereum network and apps

Secure transactions

No fees for deposits and withdrawals
Many online casinos do not support crypto

Complicated to get started with

Value of Ether fluctuates depending on demand

No refunds or support