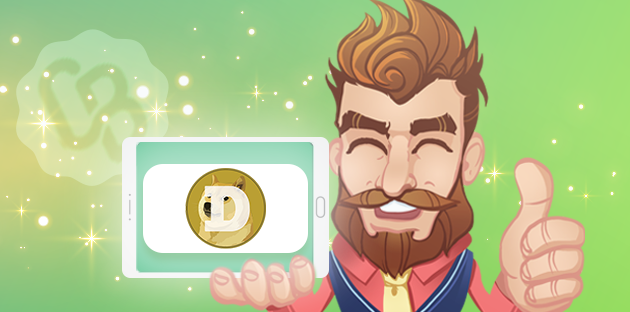 Dogecoin (symbol Ð) was introduced in 2013. This altcoin (alternative to Bitcoin) was invented by Adobe software engineer Jackson Palmer and IBM engineer Billy Markus. The main goal was to create a peer-to-peer digital currency that could reach a broader demographic than Bitcoin. They even market the new "money" as the fun version of Bitcoin.
Although it started as a joke, Dogecoin quickly gained traction and a strong community of supporters. Even its creator, Jackson Palmer, referred to it as a "joke cryptocurrency." However, it proved to be more serious and resilient. Elon Musk mentioned it in 2019, saying that Dogecoin might be his favorite cryptocurrency. This virtual currency had a significant volume and price peak in July 2020 after a viral TikTok challenge urging people to buy DOGE. Dogecoin price surged over 70% in just 24 hours.
Dogecoin is based on Litecoin and uses the same scrypt technology in its proof-of-work algorithm. One of the main benefits of Dogecoin is that it confirms transactions much faster than Bitcoin. It processes blocks every minute, rather than Bitcoin's 10 minutes. Dogecoin is faster than Litecoin too, which processes transactions every 2.5 minutes.
It is easy to start using DOGE. You only need a Dogecoin wallet (desktop or mobile version), buy some coins, and start paying. You can download the local Dogecoin wallet, MultiDoge, from the official website. The setting up is quick and easy, taking up to 5 minutes for the wallet to synchronize with the network. The wallet is compatible with different operating systems: Windows, Linux, Android, and iOS. After the setup has finished, you will receive your Dogecoin address as a long key and a QR code.
There are several ways to get Dogecoin. One of the popular ways is to get "tipped" by someone from the Dogecoin community, but you can try to obtain some free currency from a Faucet. Faucet is a website (service) that allows you to get some free Dogecoins collected from contributors who want to help others receive free coins. The most popular Dogecoin faucets are Dogefaucet.com and InDogeWeTrust.com. The only thing you need to be able to collect your free DOGE is your Dogecoin address.
However, the most efficient way to acquire Dogecoin is to buy it. The most common way to purchase it is through a cryptocurrency exchange such as Coinbase or Kraken where you can buy other cryptocurrencies with a credit card and then use them to get Dogecoin.