About 2Citadel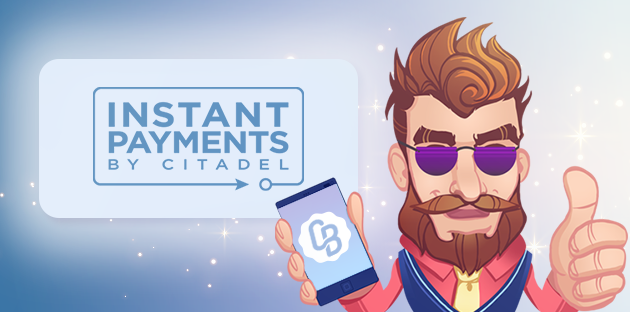 Instant Payments is service launched in 2000 by Citadel Commerce, a London-based company. It is a registered Payment Institution and a member of the UK Electronic Money Association that has established itself in the market as one of the most reliable payment providers. Adhering to strict Know Your Customer and Anti-Money Laundering policies and procedures in all jurisdictions where it offers its service, Citadel Commerce UK Limited is authorised by the Financial Conduct Authority as well.
In 2020, Instant Payments by Citadel is available in the following countries: Australia, Austria, Canada, Belgium, Czech Republic, Denmark, Estonia, Finland, Germany, Italy, Lithuania, Portugal, Slovakia, Spain, Sweden, the United Kingdom and the United States.
It is a total of 17 world countries only, which is probably one of the main reasons why more online gaming operators does not accept this banking method. Players from these countries can top up their casino accounts through Citadel that supports more than 300 banking institutions worldwide.
How to Make Deposits and Withdrawals with 2Citadel
You can instantly fund your casino account through Citadel Instant Banking. Once you find a trusted online casino, like ones featured on this page, go to the cashier and choose Instant Payments by Citadel as a preferred deposit option. Enter the amount you want to deposit and follow the instructions to complete the payment.
While you won't need any additional account to log in, you will need an online banking account with one of the banking institutions supported by Citadel. Choose the bank you hold an account with and complete your payment. In case your bank is not supported by the Citadel Web Page, you can download the Citadel Payment Assistant on your first transaction. It will guide you through the procedure. There is also the third option called the Rapid System, where you get a reference number to complete the transaction.
Anyways, you will complete your payment on your bank's online banking platform, so you need to access your online banking account using your credentials. Once in, just confirm your transaction and the money will be added to your casino account in the blink of an eye.
WILL I BE ABLE TO WITHDRAW?
At most Citadel online casinos, you won't be able to cash out your winnings through Citadel. Even when they do, withdrawals will be processed via Wire Transfer or checks, which may not be the most convenient methods due to fees and long timeframes. It is recommendable to contact customer support and check all the details before requesting a payout through Citadel.
Fees & Timeframes
Just like its name suggests, Citadel Instant Banking enables you to make instant transactions, so you can rest assured that you can start wagering your money as soon as you send it to your account. As for fees, neither online casinos nor the payment service provider charges them, so Citadel is a cost-effective option when it comes to online casino deposits.
As we have previously mentioned, withdrawals through Citadel may incur fees and take longer, so even if it is a supported cashout option, think twice whether it is the best one you can rely on.
CUSTOMER SUPPORT
If you have any questions about payments carried out through Instant Payments by Citadel, you can contact the casino operator through available communication channels. In case you cannot resolve your complaint with the casino customer support team, you can require support from Citadel through email. Its customer support's working hours are Monday to Friday, between 9 am and 5 pm PST.
Why Use 2Citadel
If you are wondering why you would choose Citadel Instant Banking over other payment methods, we are here to help you find answers. Citadel payments are processed instantly, so you can use your funds immediately to play your favourite casino games. If you opt for this deposit method, you won't have to set up another account and memorise another username and password. All you need is an online banking account at a supported banking institution.
Furthermore, Instant Payments by Citadel is a safe method that uses double-layer SSL encryption to protect your data from any cyber threat. Besides, deposits made through it don't incur fees, so you will have more money to spend on your favourite pastime activity or any other purpose you like.
However, you should bear in mind that there are a few disadvantages of using this payment option to top up your casino account. First of all, it is not available worldwide, and only a few online casinos support it. In most cases, you won't be able to cash out your winnings through Citadel. If Citadel withdrawals are allowed, they may come with high fees and take longer than through other banking methods.
Pros and Cons
Instantly processed deposits

Highly secure

No deposit fees

No additional account to set up

Supports more than 300 banking institutions
Available in 17 countries

Not suitable for withdrawals

Banks might charge fees

Supported by a few online casinos