After experiencing a great deal of success with games such as Lightning Roulette and Lightning Dice, Evolution Gaming, the leading provider of live dealer solutions, has added a new electrifying game to its award-winning Lightning portfolio. Like the previous titles from the series, this one also combines live play with high-payout RNG multipliers. It is the first card game to receive the Lightning treatment. The new game that dropped at ICE 2020 is called Lightning Baccarat. Don't throw out the window everything you know about standard Baccarat. You will need to adhere to all the traditional game rules, but also keep an open mind for the innovations that Evolution has incorporated in its latest game. 
What is Lightning Baccarat
Evolution kicks off 2020 with a new member of the Lightning family two years after they've released their first and to-date the most successful Lightning product, Lightning Roulette (won three Game of the Year awards in 2018). The latest launch is all about volatility, a high-voltage live dealer Baccarat game that follows through with tradition while simultaneously making the gameplay more thrilling by adding multipliers and a galvanising theme. 
If you have ever played standard Baccarat, then you won't have trouble with the main objective of the game. As a player, you are required to predict which side, Player or Banker, will win the round by having a hand value closest to 9. It really is – still – that simple. Add a mesmerising lighting effect to the game, a random multiplier here and there, and you've got yourself Lightning Baccarat.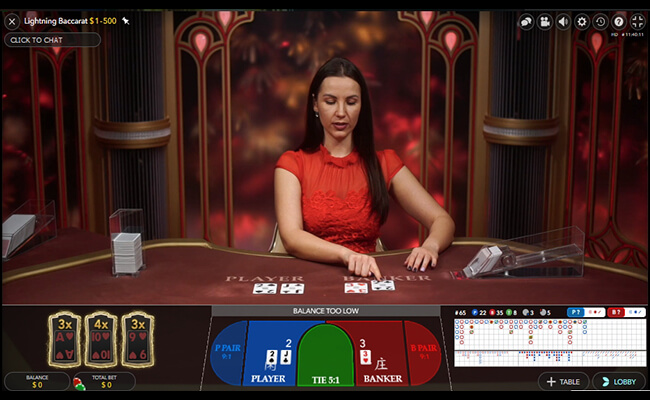 As always, Evolution never fails to amaze with the studio design and décor. As you enter the game you will see a gorgeous dealer in a red dress seated at a golden table with a velveteen dark red surface, almost brownish, and a stunning black and gold Art Deco environment all around. The game is played with 8 standard 52-card decks, and it is optimised for desktop, tablet and smartphone play. Lightning Baccarat is not as visually driven as Lighting Dice. You won't see the camera cutting frequently to zoom in and out, as the table is fairly visible from the standard front view. There is a rendered representation of the cards appearing below the feed as the dealer is drawing them so that you won't miss a single detail. 
How to Play Evolution Gaming Lightning Baccarat
Before placing bets, you need to know the values of the cards that are used in Lighting Baccarat. As mentioned, the dealer will draw cards from a shoe containing 8 shuffled decks. While some cards retain their face values, others are assigned different values and rankings. Aces are ranked the lowest and carry 1 point each. Cards from 2 to 9 are valued according to their numerical face values. Kings, Queens, Jacks and 10s are all worth 0 points. The suits of the cards do not affect the way a hand is formed; only the numerical values count.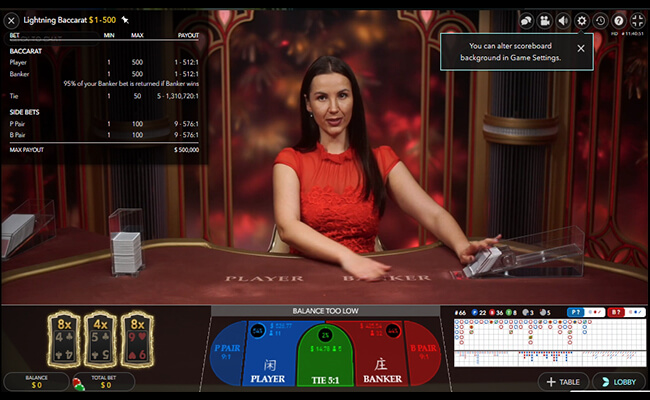 Before each deal, players are given a betting window to place bets on the outcome of the round. They can wager on the win of the Banker or the Player hand, or stake their money on a Tie. In Lightning Baccarat, a so-called Lightning fee of 20% is added to each bet. Once the bets are finalised, a Lighting round takes place. In this special round, one to five random cards are drawn from a digital 52-card deck. These are called Lightning cards, and they are immediately assigned multiplier values of 2x, 3x, 4x, 5x or 8x. You can benefit from these multipliers in the case of your hand containing any of the drawn Lightning cards, provided that your bet wins. If more cards end up in your hand that match the Lightning cards, you will receive multiplied multipliers and a sizeable payout.
With the Lightning round finished, the dealer can draw the cards and deal two initial cards to the Banker and Player. Each hand value is calculated at this point. If the value exceeds 10, only the second number is valued. For instance, 9+7=16, the value of the hand is 6. If the Player or Banker obtain a hand that is worth 8 or 9, that's natural Baccarat, and no further cards will be dealt. Otherwise, the "third card rule" is consulted to determine if there is a need for a third card for Player and Banker. 
Lightning Baccarat comes with two side bets – Player Pair and Banker Pair. They pay if the first two cards constitute a par for Player and Banker, respectively. The optimal RTP for Lightning Baccarat is 98.76%.
Strategy & Tips
A Lightning round aside, this is still a regular Baccarat game, which means you can apply all the well-known tips and strategies to improve your odds. For instance, the Tie bet is something most players will tend to avoid and instruct others to do the same. In this case, you can try your luck on the Tie bet more than you usually would. At least, as long as you have the bankroll to support this because the multipliers can really make a difference. The maximum multiplier value on the Tie bet is set at 262,144x, which is just bonkers.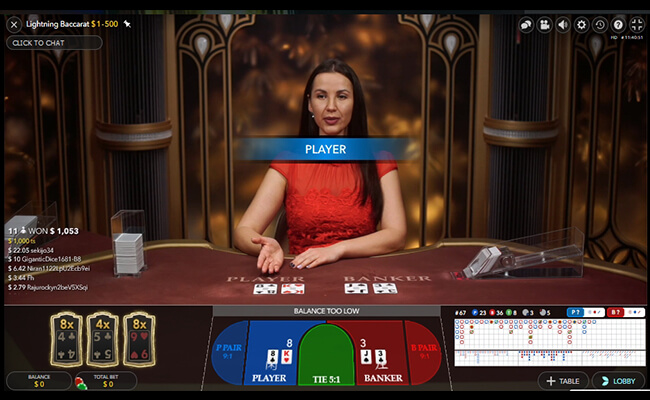 If you're the type of player that uses scorecards for reference, Lightning Baccarat comes complete with the Big Road (displays the results of past rounds). Derived scorecards focused on patterns Big Eye Road, Small Road and Cockroach Road are also included. 
At this point, Lightning Baccarat is only available at selected casinos, warming up for a full release very soon. Click here to visit Royal Panda and give Lightning Baccarat a try!