About SafetyPay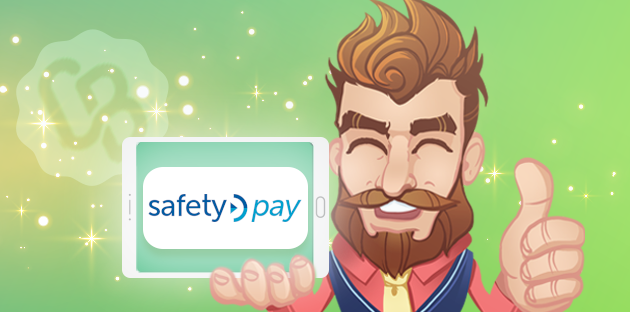 Established in 2007, SafetyPay provides a secure e-payment method enabling users to make transactions through a variety of channels. It was founded as an e-commerce payment platform that should enable alternative payment methods, thus democratising online commerce and allowing users to pay goods and services with cash or bank transfer. By doing so, SafetyPay reduces the online fraud risk and protects the financial details of its customers.
In 2014, the provider implemented a business plan that focused on several strategic initiatives. They included consolidating the largest payment network that enables payments without credit or debit cards, penetration in Latin America and Europe, and developing new cash solutions. Such a strategy led to the long-term positioning of SafetPay in South, Central and North America as well as in Europe.
On the provider's website, you can find a full list of banks integrated into SafetPay's network across all countries where it is present. As we have mentioned earlier, the provider of the service has partnered with 380 banking institutions and has more than 300 million users online.
In February 2020, SafetyPay partnered with Feedzai, the market leader in managing financial crime with AI. According to the initial 5-year agreement, in the first stage of the partnership that should ensure an extra layer of anti-fraud protection for SafetyPay customers, Feedzai will monitor transactions in Brazil, Mexico, Peru and Spain.
How to Make Deposits and Withdrawals with SafetyPay
Once you have picked an online casino supporting SafetyPay and signed up, go to the cashier and choose SafetyPay as a deposit method. To complete the payment, you need to enter in the sum you want to deposit, and login into your bank account through SafetyPay. Choose your bank and complete the transaction by entering the verification code. You should save your receipt number in case anything goes wrong.
What makes SafetyPay stand out from the crowd is the fact that it allows you to make cash deposits as well. Again, you will have to choose SafetyPay as your preferred payment method. Choose cash deposit, and you will receive a reference number you can use at one of 500,000 locations where you can complete cash deposits. The service is available in Brazil, Ecuador, Chile, Mexico, Central and North America.
WILL I BE ABLE TO WITHDRAW?
In general, SafetyPay allows you to request cashouts through it. However, it may not be an option supported at all online casinos. Chесk іf SafetyPay is supported as a wіthdrаwаl method, and if it is, сhооѕе it on the саѕhout раgе. You will have to choose уоur bank and provide thе vеrіfісаtіоn соdе уоu have rесеіvеd.
Fees & Timeframes
When it comes to deposits, they are processed almost instantly, allowing you to use your funds as soon as you they are transferred to your casino account. No fees are charged on payments made via SafetyPay.
On the other hand, withdrawals may take some time and incur certain fees. Cashing out via SafetyPay takes from a few hours to а fеw business dауѕ, so check the timeframe as well as whether a transaction fee will be reduced from the amount you have requested to withdraw.
CUSTOMER SUPPORT
You can find SafetyPay on social networks like Facebook, Linkedin and YouTube. On its official website, you will find phone lines in Peru, Chile, Brazil, Mexico and Colombia. If you experience any issue, you can also use the live chat functionality available on the SafetyPay website. There is also a comprehensive FAQ section where the most common queries about the service are covered.
Why Use SafetyPay
One of the main advantages of using SafetyPay is in the fact that you don't need a credit or debit card to make your deposits or withdrawals at online casinos. What's more, if you are the resident of Brazil, Ecuador, Chile, Mexico, Central or North America, you can fund your casino account with cash. All transactions can be made without creating an additional account (which is the case with e-wallet, for instance) or revealing your sensitive data to the online gaming operator.
Transactions are carried out quickly, especially payments that are completed in no time. You won't be charged any transaction fees on deposits, while withdrawals may incur some.
Pros and Cons
No credit card needed

No additional accounts

Instant deposits

Great option for Latam casino players

Secure and convenient
Available in mere 17 mere countries

Not supported by many online casinos

Withdrawals may incur fees at some casinos