Anticipation has been building ever since Evolution Gaming presented their high-charged addition to an already impressive range of Live Roulette games at ICE 2018. Lightning Roulette is now available across the online gaming scene and a single look at the number of players proves the leader has once again hit the mark. It's curious (and highly satisfying) to see how a provider faced with high expectations continuously manages to deliver more than we expect. Evolution keeps delivering beyond and above, and the new game will no doubt cement their already strong leadership position. 
Lightning Strikes to Deliver Out-of-this-world Multipliers
Evolution Gaming either serves more standard game variants which look and play better than anybody else's, or come up with something we've not seen before while maintaining their production quality high, interface user-friendly, and dealers professional and engaging. With Lighting Roulette, they've attempted to produce the wow effect by manipulating various game elements and were exceptionally successful.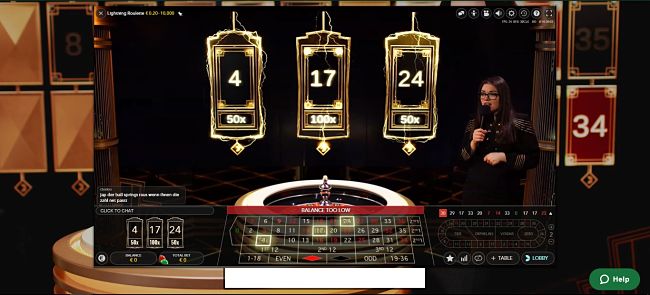 To start with, the environment looks very different to any other hosting Live Roulette games. Pillars placed around the wheel make the studio resemble a temple, with the background consisting of black, red and green numbered panels representing potential spin outcomes. Once the wheel has been set in motion, your host will pull a lever which causes lightning to strike panels and randomly choose 1 to 5 so-called lucky numbers. Why are they lucky? Because winning Straight Up bets placed on these numbers will not deliver measly 35:1, they'll be subject to a multiplier of at least x50 and potentially as much as x500. How's that for a big win opportunity?!
Owing to this unique mechanism, game payouts somewhat differ to those you'll find at other European Roulette tables. Straight Up bets pay between 29:1 and 499:1, Split bets pay 17:1, Street bets 11:1, Corner bets 8:1, and Line bets 5:1. At Mr. Green one can wager €0.20 to €500 on individual numbers, so feel free to calculate and get impressed by how many zeros lady luck could add to your bottom line. 
Top-notch Quality, Friendly UI and Engaging Dealers
Pointing out the high quality of broadcast seems superfluous when talking about Evolution live dealer games. Video feed, perfectly synchronized with audio, looks equally amazing even when fully expanded on an oversized computer screen. The game interface is both visually attractive and highly practical, offering exactly those functionalities one would hope for and making controls easy to find and use.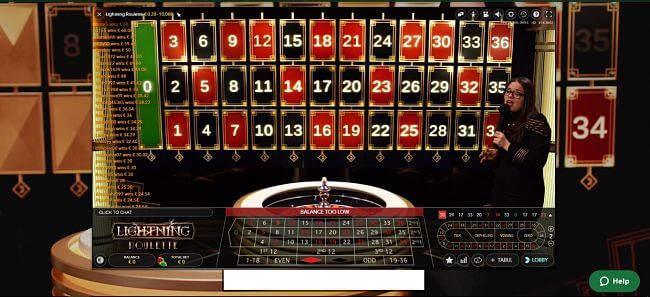 The bottom part of the screen is a dedicated betting area, displaying the traditional layout along with a Racetrack offered for placing special bets. A nice little gimmick has been added to give you a feel of what your fellow players are betting on, indicated by making numbers with most bets quiver and shake. Detailed statistics use the outcomes of last 500 rounds to produce an overview of the winning numbers (including the lucky ones), their hit frequency, and winning percentage per dozen, column, Red / Black, Odd / Even, and High / Low. Discreet buttons placed at the very top allow players to change viewing mode, adjust video quality and sound, view their gaming history, and access game rules.  
Dealers might not be native English speakers but are all, without exception, energetic, talkative and highly entertaining. Evolution Gaming always does a great job when recruiting and training their staff, and for this particular game, they've employed outgoing individuals with a good sense of humour and ready to keep chatting into the microphone throughout their half-hour shifts. With everything going on in the studio, they still manage to keep an eye on Live Chat window and respond appropriately. Their unique outfits are yet another proof of Evolution's attention to details. 
Not sure if after everything we've mentioned you'll still care about the game's RTP, but here it is for those who like to be fully informed: based on the optimal strategy for Split, Street, Corner, Line, and all outside bets, theoretical return to player is 97.3%.
Strategy for Winning at Lightning Roulette?
Even though Lightning Roulette has only been available for a short period of time, we're already seeing attempts to come up with a perfect strategy. By the way, unless you're a complete newbie and highly gullible at the same time, you'll know there is no strategy which can guarantee you'll win. However, here is an interesting theory to think about. What if you were continuously placing Straight Up bets on every single number? Wagering €1 per number would each time require an investment of €37 and at the very worst deliver €30 back (€29 won + your €1 bet returned).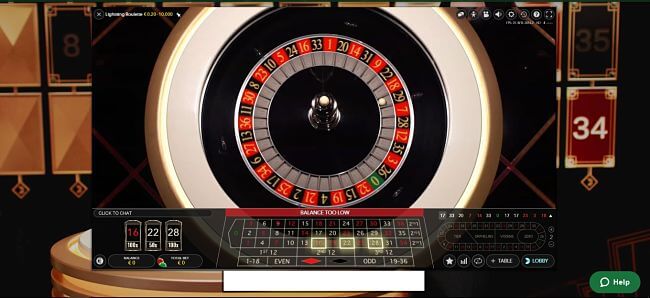 Now, looking at the results of the last 500 rounds at the time when we were playing, the winning number happened to be lucky (on average) once in 10 spins. To play 50 rounds, you'd have to invest €1,850 (50x€37) to win €1,600 (5x€50 with lucky number + 45x€30 on a non-lucky number), assuming the minimum lucky multiplier of x50. Doesn't look good, right? Even with the average multiplier of x93, noted during the monitored period, you'd still be making a loss. Since multipliers won't be applied at regular intervals, one could still make a profit even with this ballsy approach, but that's really up to lady luck and completely out of your hands.
Why You Have to Try This Game
Even hard-core Roulette fans might find the standard game variant a bit monotone after a while. Evolution Gaming is not the first to offer additional perks, but they've done it better than anybody else so far. Their glam, futuristic-looking studio with a unique background makes the game stand out as soon as you launch it. Dramatic lightning and thunder effects add to the excitement, while energetic game hosts refuse to shut up and significantly contribute to creating an engaging experience.
One actually feels sorry Evolution games come free of the tipping functionality, because if there is a dealer who deserves to be thanked for an amazing performance, it's a guy or a girl entertaining Lightning Roulette players. And do we even have to mention amazingly high potential payouts offered via lucky numbers? Lightning Roulette does more than tick all the boxes, it demonstrates the developer's willingness to go an extra mile (or two, or three) and provide something unique rather than a better version of what's already available. That's why Casino Bloke is a major fan, along with zillion other players out there. 
Want to see for yourself what the fuss is all about? The make sure to visit Mr Green or head off to LeoVegas, two premium gambling venues featuring the Lightning Roulette game that come highly recommended by Casino Bloke.
Meanwhile, US gamers can play the game at Bitstarz Casino.