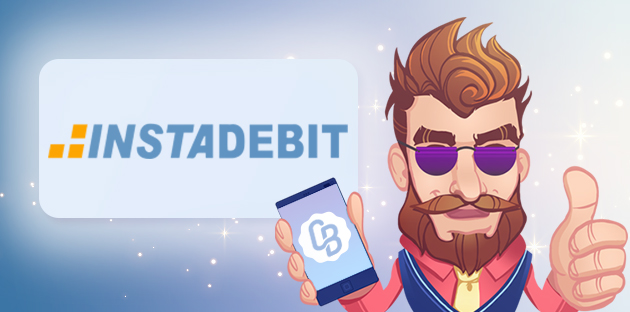 With the rise of online gambling in Canada, the country's fintech industry was somewhat forced into a full-fledged overhaul. Players effectively demanded more ways to transfer their money. Credit card fraud was a commonplace activity in the 2000s, with people becoming increasingly fearful of using banks as intermediaries. Their security was just too lax to trust.
Having that problem in mind, a group of Canadian IT and financial experts came together to launch a revolutionary new platform, aimed mainly at the Canadian market. 2003 was a rough time for such projects, as barely anyone had a solid grasp of how eWallets work.
While the first few years didn't go so smoothly, InstaDebit withdrawals and deposits soon became a mandatory payment option at most casino sites. Perhaps the biggest advantage of this provider is the lack of vulnerabilities you expose while playing casino games.
Unlike connecting a credit card, adding an InstaDebit account to a casino doesn't require you to input any personal information whatsoever. By omitting sensitive data, you are effectively shielding yourself from a potential cyber attack.
Not even the most skilled hacker can do anything with just your email, so you can rest assured when it comes to safety. That's what InstaDebit is all about.
InstaDebit is special because it allows you to reduce the involvement of banks to a bare minimum. In addition to the aforementioned security benefits, this payment option is renowned for the ability to connect your account to the most reputable financial institutions in Canada.
Scotiabank, the National Bank of Canada, CIB, BMO, and several others all allow their customers to connect their InstaDebit accounts to their cards. Having a good relationship with such highly esteemed banks is great, as it makes the whole process of setting things up much easier.
But how exactly does one make a deposit or withdrawal with InstaDebit? Here's a step-by-step overview:
Go to Instadebit.com and click the Log In/Sign Up button. You'll also find that the site runs under a secure connection, which basically means that all information you share is stored in a secure server.
During the account creation process, you're going to be asked to share your name, surname, credit card info, address, and several other things. InstaDebit accepts all types of Canadian credit cards, so you're going to have to pick a bank. To verify the validity of your account, you'll receive a small deposit which should show in your bank statement. This might take 3-5 five days, due to the banks' policies. You will also have to click the Verify Bank Account button on Instadebit.com.
Once your credit card is connected to your InstaDebit account, you'll be able to make transactions at every Canadian online casino. You can do this in the Banking/Deposit section, and you'll have to share your InstaDebit email. It's the ultimate safety measure.
Some casino sites will offer to save your payment details. If you really want to be safe, it's best that you avoid doing so. This is especially true if you tend to play on shared devices every once in a while.
WILL I BE ABLE TO WITHDRAW WITH INSTADEBIT?
Certainly! InstaDebit casinos offer both deposits and withdrawals. In fact, the platform was designed to allow money to fully circulate.
When it comes to withdrawing money, the process is significantly easier. Go to the banking section, select InstaDebit as the payment option. If you've chosen to remember your credentials, you don't have to do anything else.
If you didn't, you just have to enter your email and confirm the withdrawal. Thankfully, InstaDebit offers instant withdrawals and no fees, so you'll be able to use the money for online shopping and whatnot.
Upon requesting a withdrawal, you should make sure that the sites you're playing at are legitimate and safe. SpinIt, PlayOJO, and Bitstarz are prominent examples, as they use a series of firewalls and SSL encryption protocols to prevent any data theft from happening.
When you're looking to have the best possible iGaming experience, time is essential. That's why InstaDebit is one of the most popular payment options in all of Canada. You'll notice the difference, especially if you've used mostly credit cards and bank transfers.
InstaDebit has the unique quality of providing instantaneous withdrawals. Once you confirm the withdrawal request at the casino site of your choice, you'll receive an email and a notification on Instadebit.com.
This means that you can immediately use that money on any website that accepts InstaDebit payments. Whether it be books, clothing, or something else, you'll have full control of your money.
However, waiting times can be longer if you choose to transfer the money to your bank account. Since banks have to verify and process each payment that lands into your account, it could take up to 2-3 business days until you actually see the money.
Along with that, the bank will certainly charge a fee for using their services to withdraw money from your InstaDebit account. Read the terms and conditions of your contract with the bank, just to be sure how much money you're going to have to pay, depending on the amount you're withdrawing.
If you can't find it in your contract, contact customer support at both your bank and InstaDebit. They will be able to explain everything in detail. Being prepared for all the fees will make it easier to manage your bankroll and control your budget in an effective manner.
CUSTOMER SUPPORT
It seems that InstaDebit has hit the nail on the head when it comes to offering quality customer support. As most of us know, having sufficient support is imperative, especially if you choose a buggy casino. Problems with payments are common, so it's important to be able to contact InstaDebit and see what can be done.
Even if they determine that the problem is not their fault, it's still valuable information, as you're able to find out that the casino itself should resolve the issues.
When it comes to InstaDebit, you have the choice of contacting the customer support team via email, live chat, or phone. This is basically the modern standard of providing assistance to customers. It seems that InstaDebit understands what makes people happy and retains them as customers.
You will get almost instant replies on all three communication channels. Also, all the agents we talked to are very knowledgeable about everything financial. They'll even give you some info the banks don't know, which is awesome, especially for players who are new to eWallets.
It's just impossible not to give them a 10/10 for this one. Other payment providers should definitely take a page out of InstaDebit's book. The thing we liked the most has to be the FAQ section. It's expansive and gives you everything you need to start off smoothly.
InstaDebit is our favorite alternative to PayPal, and probably the best platform Canada has to offer. Not only can you receive your money in a private manner, but you will also receive it instantly. This is a double advantage that not many payment providers can match.
As you won't be giving any casino your private information, you can rest assured that data theft will not occur. The site is easy to use, plus you won't get confused, no matter how inexperienced you are with eWallets.