About STICPAY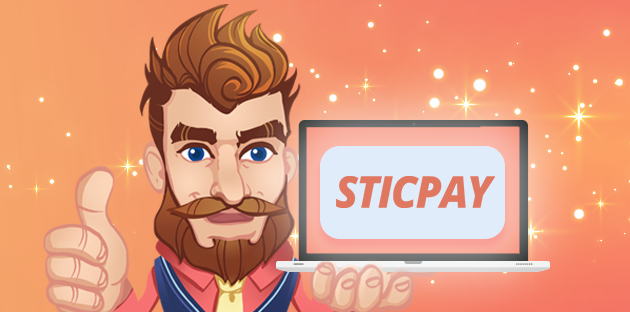 STICPAY is a company fronted by a young, yet experienced, team which is mostly formed by people from the fields of fintech, IT and venture capital world. The firm's headquarters is in London and the company's strategy stands on two main pillars: local market approach and customer-centric services. The e-money service provider supports over 28 different currencies, allowing users to easily exchange fiat currencies to digital currencies and vice versa.
STICPAY owns a Financial Conduct Authority e-money license and applies strict KYC and Anti-Money Laundering (AML) monitoring. Online casino players are safe to use STICPAY since the system makes use of encrypted servers and standard bank protocols. To eliminate the risk of fraud and comply with local regulations, all the while protecting the users, STICPAY only cooperates with licensed online gambling solutions that operate according to the relevant regulatory laws and measures.
The company has partnerships with local banks in China, the Philippines, Indonesia, Malaysia, Singapore, Japan, Australia and Canada. The e-wallet possibility is arguable the best option for online gaming, though. Users can fund their STICPAY e-wallets via Visa, MasterCard, UnionPay China, local and international bank transfers, and also cryptocurrencies (Bitcoin, Ethereum, Litecoin, and Tether).
How to Make Deposits and Withdrawals with STICPAY
To be able to utilize STICPAY as your preferred method of payment at an online casino, you need to set up an account with STICPAY. It takes a few minutes to register an account, but once you have done it you will be able to play your favourite games in record time.
Go to the STICPAY website and start creating your account. You must send two documents to be approved by the AML rules – you can use any government-issued id, drivers license or passport, take pictures and also provide legal identity by taking pictures of your government-issued residential registration or recurring statements to the address. Upload the pictures and wait for the verification to complete. Fund your STICPAY account through a preferred method and you can proceed to make deposits at STICPAY-friendly casinos online.
Go to your chosen casino and visit the cashier. Select STICPAY and enter the amount you wish to deposit. In case you cannot see STICPAY as an offered banking option, it is likely that the casino only supports STICPAY deposits for players from certain countries. Provide necessary SticPay account details and submit the deposit. The amount you have transferred should be visible on your account balance right away.
WILL I BE ABLE TO WITHDRAW?
STICPAY is a method that can be used for both depositing and withdrawing.  This means you won't have to choose any other banking option when the time comes to cash out. You can just go through the same transfer process you did when you deposited with STICPAY.
To withdraw your winnings, navigate again to the banking page of the casino. This time click 'Withdraw' instead of 'Deposit'. Next, enter your STICPAY e-wallet email address and the amount you want to cash out. Confirm the withdrawal. That's it!
Fees & Timeframes
Every top-up of your STICPAY account will incur a fee between 1% (for international bank transfers and cryptocurrencies) and 3.85% for Visa and Mastercard uploads. STICPAY also charges 2.5% + $0.3 fee for casino deposits. The casinos themselves are not likely to charge any additional fees.
The withdrawal process might take around 72 hours, depending on how fast the payment requests are usually processed by the casino you are playing at. Alternatively, you may need to register your bank account information if you want to withdraw directly via STICPAY to your bank balance. In this case, money should be transferred to your account within 2 to 5 business days.
CUSTOMER SUPPORT
As a STICPAY user, one can get in touch with a support team by providing your contact email and filling in a website form. The support agents will get back to you as soon as possible. For a more concrete inquiry, you can use different email addresses made available:
The site also has a FAQ page which addresses some of the frequent questions about registration and login, account management, depositing, withdrawing, as well as fees, commissions and payouts.
Why Use STICPAY
STICPAY is a next-generation e-wallet service that has proven to be a reliable option for casino players around the world. The transactions it processes are fast and the possibility to combine your e-wallet with local bank transfers, managing your crypto and using a STIC card make the service flexible and more convenient. The fees are there and there is no way of getting around them, but we can at least respect the company being so transparent with the charges and straightforward about wanting to benefit from the services they provide.
The STICPAY support team works 24/7 to deliver tailored responses to customer requests within a 24-hour window. The user-friendly interface contributes to frictionless transactions in all stages and more is expected from STICPAY as the fintech rising star in online gambling.
Pros and Cons
Stable, safe and secure

Supports cryptocurrencies

Deposits processed within seconds

A lot of local currencies supported

Casino bonuses apply to STICPAY deposits

Best Digital Wallet 2019 Gold Winner
High fees

There are other, cheaper e-wallet alternatives

The account registration process is a bit of a hassle