About Neosurf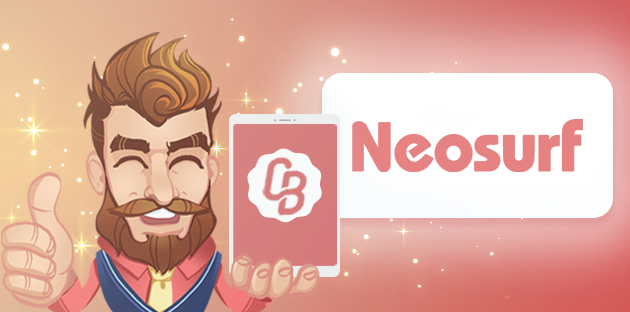 Like many companies focused on the internet, Neosurf had a relatively quiet start in 2004. It primarily focused on the western market, with the end goal of expanding the list of locations that offered its vouchers. As the company grew, it managed to establish an online presence. Neosurf voucher cards quickly became an accepted way to pay. The bigger their presence was, the more valuable their vouchers were.
The company was registered under the FCA, allowing them to continue operations in the EEA. It also began to work more seriously with online casinos. The option to only deposit money proved to be a growing problem for Neosurf. Something they fixed after they launched the Neosurf account.
Unlike their vouchers, the account effectively works like an e-wallet. By opening an account, you receive a personal PIN, which you can use to pay directly. There was no longer a need for vouchers, but they remain an option! Your Neosurf cash vouchers can be used to top up your account. Furthermore, you can withdraw money from your account to a cash voucher. The fact the company did not phase out their existing vouchers in favour of a digital approach is something we have to commend.
How to Make Deposits and Withdrawals with Neosurf
Depositing with Neosurf is simple, no matter if you use their e-wallet account or their voucher. When you open the deposit page at your chosen online casino, simply scroll through to find the Neosurf option. After selecting it, you will be taken to a separate screen, where you need to enter a pin code to pay.
If you are using a voucher, you will enter the voucher PIN code. If using the account, you enter the personal PIN you were assigned when you registered. In both cases, the transaction will go through without a hitch. It is worth noting that you do not have to spend the entirety of the voucher funds immediately. Vouchers are valid for twelve months, so be sure to spend or transfer all your funds before it expires.
The best part about using Neosurf to deposit and withdraw is that fees only apply in certain cases. Most importantly for punters, deposits and withdrawals from merchants are not subject to any fees from Neosurf's end. While an online casino might have some fees in place, they are unrelated to the actual payment processor.
WILL I BE ABLE TO WITHDRAW?
With the creation of a Neosurf account, you will be able to withdraw funds like you would with any e-wallet. Receiving money from Neosurf merchants, which online casinos are, does not cost anything. You can then transfer those funds to a Neosurf voucher free of charge! You can also withdraw that money via bank transfer or a Neocash card.
Fees & Timeframes
While security is a key concern for the payment processor, that does not stop it from being easy to use. Depositing funds into your Neosurf account is completely free, without having to pay any fees. Whether that is receiving a payout from an online casino, a bank transfer, or a deposit from your credit/debit card. Deposits are instant, except for bank transfers. They take between 24 to 48 hours to complete.
The only deposit fee that exists is when you deposit funds via a Neosurf voucher. A 4.5% fee is applied to the sum you transfer. Deposits via Neosurf voucher are instant.
A similar story occurs with withdrawals. Withdrawing funds to a Neosurf voucher or to a merchant has no fees. Bank transfer withdrawals have to pay a 1.5% fee, and usually have to wait a few days to be processed. Neocash card withdrawals are much faster, but pay a higher 2% fee for each transaction.
CUSTOMER SUPPORT
We found the website to be quite informative when it comes to how to use Neosurf's vouchers and account. An FAQ page answers most questions. The company has also created several video guides that help to guide you through using Neosurf for deposits and withdrawals. Currently, the only way to reach out for assistance is by filling out a contact form. You leave your name, e-mail, phone number and message, and wait for a company representative to get back to you.
At the time of our review, Neosurf was redesigning their website. This has led to some issues where information on one version was not available on the other. While a minor issue, this is something we hope the company fixes with time.
Why Use Neosurf
Vouchers are the big thing that separates Neosurf from other e-wallets. They are by no means necessary. However, they further increase the security of your online transactions. That said, if vouchers are not available in your area, you can directly deposit to Neosurf using cryptocurrency or traditional payment methods.
We were also pleased with how little fees were applied when using their service. Unless you are withdrawing money from your Neosurf account, you will not run into any extra costs. That kind of transparency goes a long way in building trust between payment processor and customer.
Pros and Cons
Transparent fees

Available as both voucher and e-wallet

Secure transactions

Can transfer funds from e-wallet to voucher and back

Easy to use
Some operators do not allow Neosurf withdrawals

Neosurf voucher deposits into your account have a fee

Limited voucher availability